Occupational disease patients to get additional benefits from new plan
Move expected to help improve well-being of vulnerable workers in harsh working conditions
Those suffering from occupational diseases will receive more welfare benefits following a newly issued plan urging local governments and companies to strengthen preventive measures.
The plan, under the 13th Five-Year Plan (2016-20), released by the State Council on Jan 4, will improve welfare for those working in harsh conditions and highlights those suffering from ailments such as pneumoconiosis or black-lung disease, exposure to radioactivity and chemical intoxication.
The plan said patients who are eligible for critical disease insurance and medical assistance will also receive the benefits. In addition, the government will provide a minimum living subsidy to some poor patients' families, a key measure experts believe will bring better welfare services to millions of patients across the country.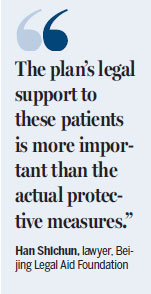 The plan focuses on controlling the source of disease by urging companies to upgrade technology and working conditions, set up management mechanisms for occupational healthcare, offer targeted training and build effective poison-control facilities.
The plan also called for stricter and more effective government supervision over companies who fail to meet poison-control standards and local authorities can take action to stop harmful operations or, in some cases, actually close the companies.
The level of occupational diseases can be classified as severe in China and more than 30,000 new cases are reported each year, the plan said. Coal mining, chemical engineering and nonferrous metal manufacturing account for the largest number of patients.
In addition, the plan urged hospitals and professional disease control institutions to provide quality services, including diagnosis, risk evaluation and treatment for occupational diseases. Academic research on occupational diseases will be boosted to develop nonpoisonous manufacturing technology and materials.
Han Shichun, a lawyer at the Beijing Legal Aid Foundation, has been helping black-lung patients with legal consultation for years. Workers are much more vulnerable in locations such as mines and nonferrous metal factories, he said.
Black-lung accounts for about 90 percent of occupational diseases in China, and the plan will help control such diseases, if properly implemented, as it highlights the importance of preventive measures and improving working conditions, Han said.
Migrant workers face a major challenge as few sign contracts with employers, which, in turn, hampers their ability to fight for compensation and payment for treatment. "The plan's legal support to these patients is more important than the actual protective measures," Han said.
Black-lung patients could be the major beneficiaries as more than 720,000 had been diagnosed by the end of 2015. Love & Save Pneumoconiosis, a non-governmental organization based in Beijing, estimated that about 6 million people in the country are suffering from the disease.
It often afflicts workers in mines where protective measures are not adequate to prevent them from inhaling dust. Six years ago, about 100 farmers were reported to have succumbed to the disease in the poverty-stricken county of Gulang in Northwest China's Gansu province after years of working in a gold mine. One of the farmers, Zhang Yuesheng, 47, died of the disease in 2010 when his son, Zhang Long, was still a middle school student.
"My father's income supported my family while my mom could only grow some corn and wheat to feed us. My sister and I were not able to make a living since both of us were at school," said Zhang Long, now a 20-year-old college student.
After Zhang Yuesheng's story was reported by China Daily, readers donated money to his son to support his study at middle school and his current pursuit of a bachelor's degree. "Now I understand protective measures are most important for miners. My father wouldn't have died if he had been given such protection," the 20-year-old said.
Zhang said he hopes the plan will improve health awareness among migrant workers and stimulate employers to improve working conditions.