Providing staff welfare is not corruption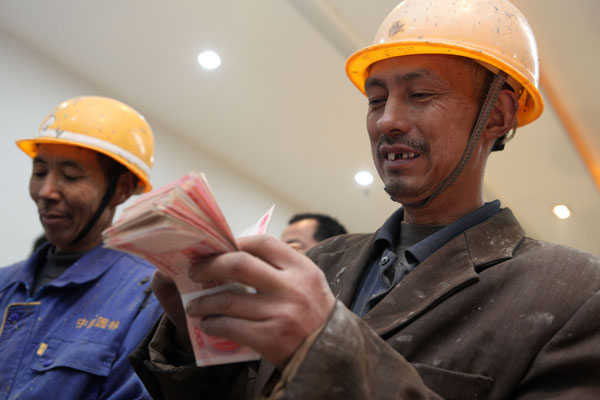 Migrant workers receive their pay at a construction site in Dazu district, Chongqing, on Dec 26, 2013. [Photo/China Daily]
In a recent joint circular, the General Offices of the Central Committee of the Communist Party of China and the State Council, the country's Cabinet, said Party, Communist Youth League and labor union activities should be organized to ensure employees get their welfare benefits and are treated in accordance with relevant State regulations.
With Spring Festival just three weeks away, the circular comes at the right time, because many employers have slashed almost all the normal benefits employees previously enjoyed for "safety concerns", fearing they could be interpreted as corruption and thus affect their political career. For example, employers have more or less stopped distributing low-priced moon cakes among employees for Mid-Autumn Festival; they have also stopped giving employees desk calendars and diaries for the New Year. Some employers have reportedly even put in place very rigid and complicated procedures for reimbursing employees' transport and communications allowances.
At a crucial point in China's ongoing anti-corruption campaign, one can understand why managers of working units do not want to risk their political future by providing ordinary employees extra welfare for fear of being accused of indulging in "corruption" or "misusing" public money.
Welfare has long been a highly sensitive issue in China. Since it was common in the past for senior public servants to receive massive welfare benefits, such as free housing, dining and transport allowances-which ordinary employees did not enjoy-the widespread perception among people was that they were "hidden corruption" practices that benefited specific groups.
That's why the public in general applauded the eight measures the top leadership implemented at the end of 2012 to promote thrift and fight extravagance, and crack down on corruption and misuse of public money, especially on the eve of major festivals and holidays.
These measures, no doubt, are necessary to build an austere Party and government. But some State departments, institutions and enterprises have taken the anti-extravagance campaign to extreme extents. Many employers and managers have wrongly interpreted the anti-corruption and anti-waste drive as a "zero-welfare" campaign for ordinary employees. Obviously, this is in contravention of the spirit and original intention of the top authorities' anti-corruption and anti-waste campaign.
For ordinary people, receiving some extra benefits from their employers on important occasions such as Spring Festival have long been seen as approval of their yearlong work. Besides, goodwill gestures from employers can encourage employees to work harder, deepen their bond with their working units and enhance staff cohesion.
The fight against extravagance and waste is necessary to build a frugal society, but it should not compromise the normal welfare and benefits of employees, and the latest circular from the top authorities hammers home this very point.
Early in July 2014, the All-China Federation of Trade Unions issued a notice saying some labor union dues can be used for the collective welfare of workers. But some employers continue to deny normal welfare benefits to ordinary employees on the pretext of fighting corruption. This is all the more worrying because some allowances and subsidies employees enjoyed in the past used to constitute an important part of their incomes and helped them to lead a decent life despite their low salaries.
The top authorities' latest circular should dispel any suspicions employers have on whether providing normal welfare and benefits to employees is tantamount to corruption. The authorities have officially confirmed that the ongoing anti-corruption campaign is to prevent the misuse of public money and curb extravagance, but not to abolish legal allowances and perks of employees. However, given the different interpretations of "normal welfare", the authorities should now give specific definitions of welfare benefits, in order to further ease employers' misgivings.
The author is a senior writer with China Daily.
wuyixue@chinadaily.com.cn