China to open a wider door to foreign investment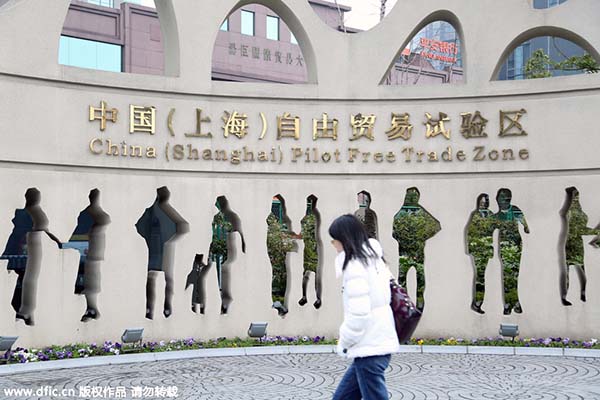 A pedestrian walks past a signboard of the China (Shanghai) Pilot Free Trade Zone in Pudong, Shanghai, China, March 18, 2015. [Photo/IC]
China's National Development and Reform Commission (NDRC) and Ministry of Commerce (MOFCOM) published a draft of a revised catalogue for the Guidance of Foreign Investment Industries in early December for public comments. It is expected that the new catalogue will be promulgated in early 2017, which will make the Chinese market more accessible to foreign investment.
In the draft of this new catalogue revision the so-called negative list, which lists industries prohibiting or restricting market access by foreign investment, includes only 62 entries, down from 93 ones in the previous version. Restrictions on market access by foreign investment to a large number of sectors are deregulated. Among them are unconventional oil resources, automobile electronic devices, key parts and components for new energy vehicles, including energy power batteries, equipment for railway transportation, exploring and mining of precious metals, exploring and cradling of lithium, processing of edible oil, deep-processing of corn, manufacturing of biological liquid fuel, motorcycle manufacturing, highway coach services, ocean shipping tally and credit investigation and rating. The sectors liberalized spread across mining, manufacturing and service industries, involving a significant volume of jobs and investments.
Commentators might be a little surprised by the timing of such a unilateral measure of investment liberalization announced by the Chinese government. Due to the imminent change of the administration in the United States, it seems that the talk on the China-US Bilateral Investment Treaty (BIT) will be slowed down and delayed. U.S. President-elect Donald Trump has raised his rhetoric against globalization repeatedly. The Doha round negotiation of the WTO has reached a stalemate, to mention the least. Protectionism has reared its ugly head all over the world. However, China has walked its talk and shown its confidence on globalization by major investment liberalization measures in this cold winter.
The new catalogue is actually only one step of China's continues reform on its foreign direct investment (FDI) regulation regime. In July 2013, China announced that it had agreed to negotiate with the U.S. on China-US BIT on the basis of Pre-Establishment National Treatment (PENT) with negative listing, which means China would grant the right of market access to the foreign investment no less than that to domestic investment in principle, while exceptions to PENT would be listed specifically.
In September 2013, the Shanghai Pilot Free Trade Zone (FTZ) was launched and PENT with negative listing started to be experimented on in Shanghai. The first negative list used in the Shanghai Pilot FTZ was as long as 190 entries. However, it marked a fundamental change in China's foreign direct investment regulation system. Based on the three-year experiment in Shanghai and other FTZs, China has started to grant PENT with negative listing to all foreign investment from October 2016 nationwide. This is an important unilateral proactive investment liberalization measure. More than 95% of cases of foreign invested enterprises do not need to go through the application and approval procedure as in the old regime any more, and only a simple registration procedure is required. For most sectors, foreign investors can just go to set up their firms in China as Chinese investors.
While the China-US BIT talk is still going on, such major investment liberalization measures are not really required by any trade and investment treaties China has signed. China is willing to liberalize its market not only to fulfill its international commitments but also to meet its own demand of economic reform and growth. Based on the data of the first 11 months, the year 2016 is estimated to see a slight 3% increase in FDI flowing into China. China is trying to attract more and better FDI to boost its economic growth and balance its huge outbound FDI. The ultimate target of China's reform is to establish a level playing field for investors from all sectors all over the world.
The year 2016 sees a rising wave of anti-globalization. Facing such challenges as Brexit and anti-globalization rhetoric in the US and other countries, the G20 Hangzhou Summit hosted by China in September reaffirmed G20 leaders' support for the multilateral trading system, and published the G20 Strategy for Global Trade Growth and G20 Guiding Principles for Global Investment Policymaking.
G20 Guiding Principles for Global Investment Policymaking is the first such document endorsed by leaders of major economies. It is a milestone in the development of an international investment system, and might become a forerunner of a rule-binding multilateral system on investment.
After a series of unilateral investment liberalization measures in 2016, it seems that China has been ready to negotiate with other countries on further investment liberalization at the bilateral, plurilateral and multilateral levels.
Cui Fan is professor of International Trade, the University of International Business and Economics and director of research, China Society for WTO Studies, Beijing, China.