From Uruguay to China: Investing in soccer, investing in China
Editor's Note:
In the wave of globalization and economic growth, a growing number of foreigners are coming to China in search of opportunities. With diverse aims, some choose to work in the world's second-biggest economy, or some want to experience a cross-cultural environment and successfully integrate into it, while others go on to achieve their aspirations in China. Regardless, working or living in a cross-cultural environment isn't a walk in the park. As the end of the year is a time to reflect and start fresh, we rounded up some inspirational stories of six foreigners living in China. We hope these stories can inspire you in the new year. Here is Nicolas Santo's story.
Nicolas Santo, a 29-year-old Uruguayan and a former investment consultant with the Foshan Bureau of Commerce from 2013 to 2015, is now preparing to become an entrepreneur as he launches his own projects in China.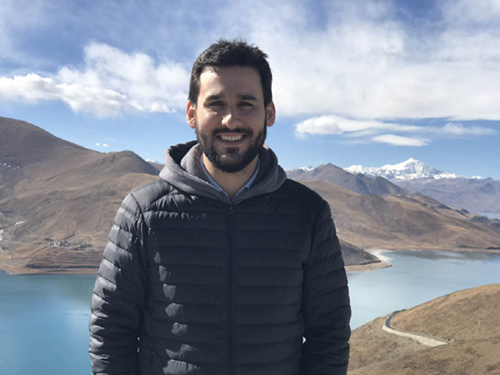 Nicolas Santo poses in Yamdrok Tso Lake in the Tibet autonomous region. [Photo provided to chinadaily.com.cn] 
There are years and then there are years. For me, 2016 was certainly one to remember.
It started as a year of career transition. After two years working in the Foshan government, I decided that it was time to close that chapter and launch a few projects of my own. I felt it was time for new challenges and to allow an opportunity for other foreign professionals to gain a similar experience as I did with the Chinese government. I couldn't be prouder of what our team had achieved. From designing the best investment promotion strategy in the Chinese mainland (according to FDI Magazine of the Financial Times) to attracting investment projects from regions as diverse as Europe and Latin America. I firmly believe that the Sino-foreign team initiative greatly contributed to the city's development. For every dollar spent by the Foshan government on our team, many more dollars in foreign investments stayed in the city.
Today I am focusing my efforts on my two passions: helping China transform its soccer culture and bridging China with the world. Together with AC Milan stars Alessandro Costacurta and Massimo Ambrosini, we are working hard to revolutionize the way Chinese families feel about soccer. We are doing this through Champions International Camps. I very much like this quote of the Argentinian writer Eduardo Sacheri: "Some argue that football has nothing to do with the most essential things in life; I don't know how much these people know about life, but I'm certain of one thing: they know nothing about football." Soccer can teach you about leadership, team-building and even how to pick yourself up after you fall. In an increasingly competitive world with plenty of people with the right set of hard skills, these are the soft skills that make people stand out from the crowd. We are committed to giving Chinese youth the closest thing possible to one-to-one lessons with international soccer champions.