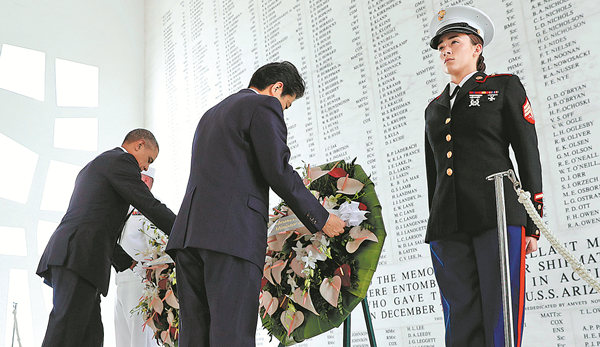 US President Barack Obama and Japanese Prime Minister Shinzo Abe lay wreaths at the USS Arizona Memorial in Hawaii on Dec 27, 2016. Carolyn Kaster / AP
Japanese Prime Minister Shinzo Abe and US President Barack Obama stood side by side at Pearl Harbor on Tuesday, talking about reconciliation between the World War II foes and their growing postwar security alliance. Abe hopes his visit to Pear Harbor in Hawaii will resolve the historical issue, at least between the United States and Japan.
In his nearly 17-minute speech, Abe, to no one's surprise, offered no apology for the Japanese sneak attack on Pearl Harbor on Dec 7, 1941, which drew a then reluctant US into World War II. Without an apology, the entire Abe speech, however emotional it was made by an interpreter, sounded hollow in essence. The speech only signaled that the sensitive but critical historical issue between Japan and the US is still unsolved.
Abe had indicated earlier that he would not have to offer an apology because Obama did not offer one in May when he visited Hiroshima, one of the two Japanese cities where the US dropped atomic bombs in August 1945.
When I pressed US State Department spokesman Mark Toner on the issue on Tuesday afternoon, he dodged my questions, refusing to say whether it's appropriate for Abe to compare the two historical issues, whether the US and Japan have settled the historical issue as Abe claimed or whether the US will still seek an apology from future Japanese leaders for the attack on Pearl Harbor.
Bilateral ties between Japan and the US were dealt a blow when US president-elect Donald Trump declared he would scrap the Trans-Pacific Partnership agreement after he enters the White House. Trump has also said that he does not want the US to foot the bill for Japan's security. So, the emphasis by Abe and Obama on the alliance is aimed at reinforcing the relationship before Trump takes office on Jan 20.
The reason that Abe did not and would not offer an apology is simple. Right-wing Japanese groups, Abe's core supporters for a long time, don't want him to.
Hundreds of thousands of US soldiers died during World War II. The Hacksaw Ridge, a biographical film still running theaters both in the US and China, uses the story of Desmond Doss, an American pacifist combat medic, to show some of the sacrifices the US made to eventually defeat the Japanese fascists.
But the number of Americans who died fighting Japanese forces was much smaller than the number of people killed by the invading Imperial Japanese Army in China and other Asian countries .
Abe is notorious for his revisionist view on Japan's wartime past. That's why in an open letter to Abe last year, more than 200 Western scholars, including Ezra Vogel of Harvard University, urged him to face squarely Japan's wartime past.
But the adamant Abe refused the Republic of Korea's request in October to send letters of apology to former "comfort women", a euphemism for women and girls forced into sexual slavery by the Japanese army. Just a few days ago, some former "comfort women" protested against a deal between Japan and the ROK on the issue, saying it does not cover those women from other countries.
As many as 200,000 young women from Korea, China, the Philippines, Burma, Thailand, Vietnam, Malaysia, Indonesia and East Timor were kidnapped by Japanese soldiers during the war years and forced into sexual slavery.
While Abe tried to tell the world on Tuesday to not mention the infamous part of Japan's history, many Chinese are waiting to see whether he visits the Nanjing Massacre Museum to offer both "everlasting condolences" he mentioned on Tuesday at Pearl Harbor and a sincere apology.
It is puzzling why it is so hard for Abe to just say the word "apologize" to seek the forgiveness of nations and people that were victims of Japanese atrocities. This is even more surprising when one considers Germany's postwar reconciliation with other nations.
The author is deputy editor of China Daily USA. chenweihua@chinadailyusa.com