Abe pays respects at Hawaii memorials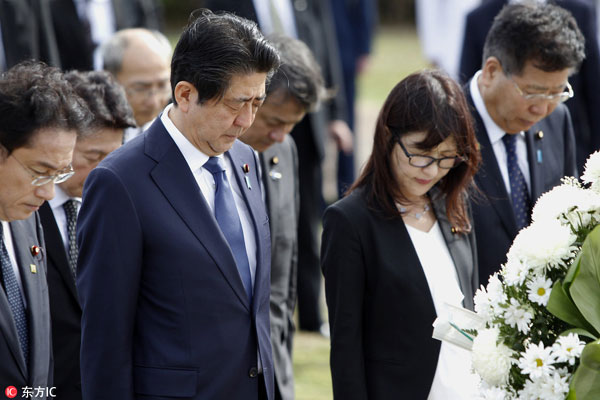 Japanese Prime Minister Shinzo Abe, second from left, bows at the Ehime Maru Memorial at Kakaako Waterfront Park in Honolulu, Hawaii, US on Dec 26, 2016. [Photo/IC]
HONOLULU - Japanese Prime Minister Shinzo Abe on Monday stopped at several memorials in Hawaii, one day before he will visit the site of the 1941 bombing of Pearl Harbor during a trip intended to show a strong alliance between his country and the United States.
Abe made no public remarks and stood in silence before a wreath of flowers at the National Memorial Cemetery of the Pacific, a memorial to people who died while serving in the US Armed Forces.
Abe, joined by two of his Cabinet members, bowed his head before wreaths of white flowers and greenery laid at the feet of stone monuments at Makiki Cemetery in Honolulu dedicated to Japanese who settled in Hawaii in the 1800s.
The crowning event of the trip comes Tuesday, when Abe and US President Barack Obama will visit Pearl Harbor, the site of the Japanese attack 75 years ago that drew the United States into World War II. Obama, who was born in Hawaii, is spending his winter vacation there.
Japanese leaders hope to send a unity message as well to President-elect Donald Trump, who triggered concerns before his Nov 8 election by opposing the US-led Trans-Pacific Partnership trade pact and threatening to force allied countries to pay more to host US forces.
Abe's visit will come seven months after Obama became the first serving US president to visit the Japanese city of Hiroshima, where the United States dropped an atomic bomb in the closing days of the war in 1945.