Home / World / Asia-Pacific
Abe commemorates WWII dead at Pearl Harbor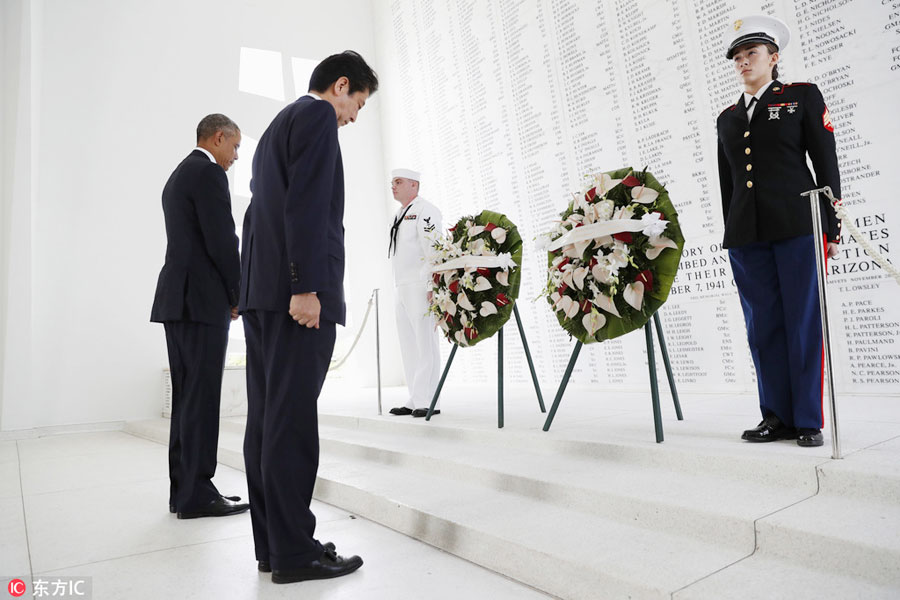 Japanese Prime Minister Shinzo Abe (C) and US President Barack Obama (L) bow their heads during a wreath-laying ceremony aboard the USS Arizona Memorial at Pearl Harbor, Hawaii, US, December 27, 2016. [Photo/IC]
PEARL HARBOR, Hawaii - Japanese Prime Minister Shinzo Abe joined US President Barack Obama for a joint visit to Pearl Harbor on Tuesday, commemorating World War Two dead and pledging that Japan would never wage war again.
The visit, just weeks before Republican President-elect Donald Trump takes office, was meant to highlight the strength of the US-Japan alliance amid concerns that Trump would have a more complicated relationship with Tokyo.
Abe and Obama commemorated the dead at the USS Arizona Memorial, built over the remains of the sunken battleship. Abe became the first Japanese prime minister to visit the memorial, a centerpiece of the historic site.
"We must never repeat the horrors of war again. This is the solemn vow we, the people of Japan, have taken," Abe said.
"To the souls of the servicemen who lie in eternal rest aboard the USS Arizona, to the American people, and to all the peoples around the world, I pledge that unwavering vow here as the prime minister of Japan," he said.
Japanese forces attacked Pearl Harbor with torpedo planes, bombers and fighter planes on the morning of Dec. 7, 1941, pounding the US fleet moored there in the hope of destroying US power in the Pacific.