China has achieved most progress on cutting over capacity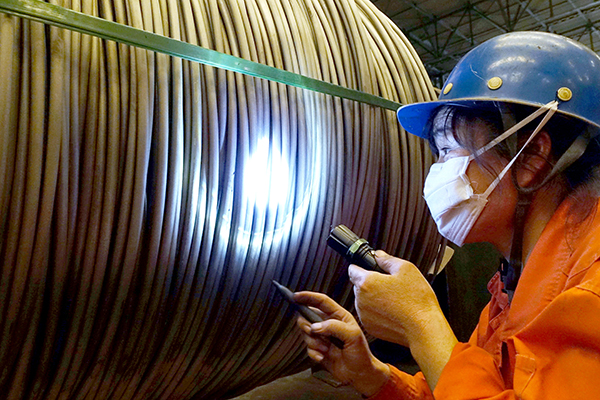 A worker at a steel factory in Dalian, Northeast China's Liaoning province, Sept 1, 2016. [Photo/China Daily]
The central authorities have made most progress on cutting industrial overcapacity out of five tasks they prioritized this year, according to Professor Yao Yang, Dean of the National School of Development at Peking University.
During a media conference on interpreting and analyzing the messages delivered by the Central Economic Work Conference, Professor Yao explained that it's usually normal for stock to pile-up and zombie companies to emerge during an economic slowdown, so it's remarkable the goal to reduce overcapacity in the coal and mining industry has been achieved, and even surpassed.
"45 million ton of steel and 250 million ton of coal have been cut as over-capacity to date. The goal of 2016 has been fulfilled ahead of time, according to the data reported by relevant central enterprises," as Xu Kunlin, deputy secretary general of the National Development and Reform Commission, introduced the achievement of this area during a previous speech.
The central authority's determination to cut over-capacity remains firm. NDRC, China's top economic planner, reaffirmed that cutting excess production capacity will be a priority next year, according to a statement issued after its annual work conference.
The authority said the focus would be broadened to other sectors. According to a previous speech, Yang Weimin, vice-minister of the Office of the Central Leading Group on Finance and Economic Affairs, said China will expand the scope of its overcapacity reduction program from steel and coal mining, to other sectors. He said, at the time, that a market-oriented approach must be adopted.
Margit Molnar, head of the China Desk of the Economics Department of the Organization for Economic Cooperation and Development, also expressed her admiration for the central government's actions in this area.
In an interview with China Daily website she said: "As long as the excess capacity problem prevails, large amounts of resources that could be used more productively elsewhere are taken up, thereby reducing growth potential. It is also good news that the targets will go beyond coal and steel, as there are many more sectors affected and overcapacity needs to be worked off."
She also warned that special attention should be paid to the consistency and implementation of the policy, given the circumstances of previous years.
She recalled, "We also had high expectations in 2015, when the Economic Work Conference put cutting excess capacity as an objective. Soon after that, however, ambitions have come down when it came to quantifying the targets. We hope that this time ambitions will be higher and capacity cuts will be more effective."
Professor Yao Yang pointed to some potential challenges.
"Two aspects may bring further problems in future. Firstly, relying on administrative measures to cut overcapacity would lead to some unbalances. For example, recently some signs of economic recovery shows, while as the regulations and policies of cutting overcapacity still stands and imported steel products are also competitive, which leads to steel prices rising sharply. Secondly, the regional disparity has been caused when processing the cutting overcapacity. Maybe Hebei provinces' capacity has been tightly controlled, while at same time a new steel mill is about to be built in Guangxi Province. That should be considered more comprehensively, authorities need to think about it."
Wang Yanfei contributed to this article.