Joint action can cut steel overcapacity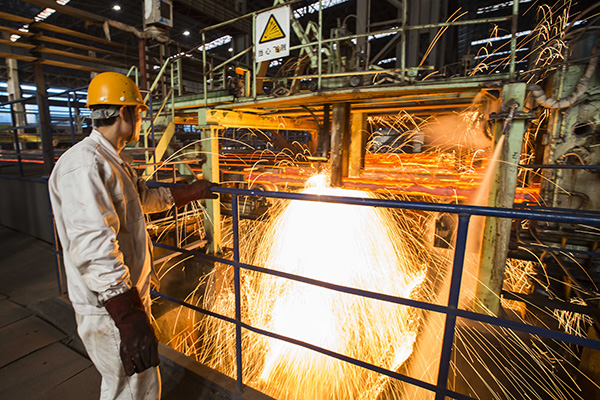 A worker at a steel company in Lianyungang, Jiangsu province, in Jan 2015.[Photo/China Daily]
Due to the feeble global economic recovery and dampened global demands, China's steel industry (and those in other countries) faces overcapacity. During the US presidential campaign, rival candidates said that by "dumping its steel products", China has caused the American steel sector to lose its competitive edge. During his campaign trail, Donald Trump even threatened to impose up to 45 percent punitive tariffs on Chinese imports if he was elected president.
Such rhetoric and protectionist measures, however, will not help resolve the global steel overproduction issue.
China has exported only about 10 percent of its total steel output every year over the past decade, which is far below the 40 percent of some developed steel-producing countries. However, the United States and some European Union member countries have blamed China for the global steel overcapacity and launched anti-dumping investigations into Chinese steel products.
In May, the US International Trade Commission invoked Section 337 of the Tariff Act of 1930 to formally launch an investigation against more than 40 Chinese steel manufacturers, alleging the competitive edge they enjoy is unfair.
Ironically, Chinese steel exports to the US and EU countries, in volume and value both, account for only a small percentage of their steel imports. So, imposing punitive tariffs on Chinese steel products can only be a ploy to protect their backward steel sectors.
China has never shied away from accepting its surplus steel capacity. Instead, it has taken measures to help local governments and enterprises to reduce overproduction. In February, the State Council, China's Cabinet, issued a guideline to eliminate backward steel capacity, another 100 million to 150 million tons of crude steel production will be cut in the next five years, with 45 million tons to be slashed this year alone.
Speaking at the opening ceremony of the G20 Hangzhou Leaders Summit on Sept 4, President Xi Jinping reiterated that China will keep its promise of reducing its crude steel output during the next five years. Starting late November, the central government has sent several inspection teams to different regions to assess the progress made in eliminating steel and coal overcapacity. And provinces such as Shanxi, Shandong, Jiangxi, Henan and Guangdong have already completed their tasks for 2016.
Steel overproduction is not an issue for just one country; going by globalization rules, it's the concern of all countries. In fact, G20 leaders at Hangzhou agreed steel overcapacity is a global issue and called for the establishment of a global forum for members of the G20 and the Organization for Economic Cooperation and Development to share information and work together to resolve the issue.
As the host of the Hangzhou summit, China has maintained communication with the parties to help advance the preparatory work for the establishment of the forum.
China is willing to work with the United States to resolve the global steel overcapacity issue. Trump has said he would push for $1 trillion spending on infrastructure construction in the next 10 years that would include building and repairing highways, bridges, airports, schools and hospitals. Since the US cannot produce enough steel to meet that sort of demand, it can buy some of the steel needed from China. This will not only ease the world's steel overproduction pressure, but also boost the economic recovery of the US and other countries.
Besides, the China-led Belt and Road Initiative (the Silk Road Economic Belt and 21st Century Maritime Silk Road) is expected to strengthen connectivity and infrastructure construction among countries along the routes and thus boost global steel demands.
Hopefully, the US and other steel-producing countries will abandon their prejudices toward China and try to sincerely resolve the global steel overproduction issue. Only when more countries make coordinated decisions and strengthen their policy communications can they eliminate steel overcapacity and achieve win-win results.
The author is a researcher at the International Trade and Economic Cooperation Institute of the Ministry of Commerce.