High-level inspection teams prompt revision of anti-pollution measures
By Zheng Jinran and Tian Xuefei in Harbin and Li Yingqing in Kunming. | China Daily | Updated: 2017-01-10 08:00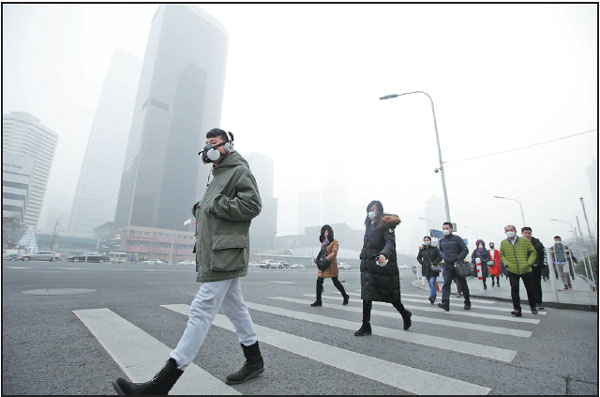 People wear respiratory masks in Beijing's central business district during December after a red alert was issued for heavy air pollution.Jason Lee / Reuters
Central government inspectors blitzed local authorities last year, promoting greater transparency and solving long-standing problems. Zheng Jinran reports from Beijing, with Tian Xuefei in Harbin and Li Yingqing in Kunming.
The New Year saw northern China shrouded in a cloud of thick smog that sent air pollution to hazardous levels and resulted in more than 60 cities imposing joint emergency measures, such as the suspension of manufacturing activity, to reduce emissions of noxious gases.
In addition to short-term emergency measures, the central government last year strengthened supervision of policymakers by introducing environmental inspections conducted by high-level cadres.
The inspections have become a powerful weapon in the fight against pollution, in tandem with a number of long-term measures and environmentally-friendly policies adopted by the central government.
The teams of central inspectors, headed by ministerial-level cadres, debuted during a month-long inspection in Hebei province on Jan 4 last year. The 16 teams of investigators conducted inspections in 16 provinces and regions, completing the final round of inspections on Dec 30, according to the Ministry of Environmental Protection.
By the same date, 720 people had been detained on charges of polluting the environment, and fines were levied totaling more than 441 million yuan ($63 million), the ministry said.
However, rather than simply punishing polluting companies, the focus has now shifted to investigating the actions of local governments to "highlight the major roles played by policy-makers in environmental issues", said Chen Jining, the environment minister.
The inspections in July saw more than 40,000 people at both the central and local levels participate in a campaign that focused on the provinces of Heilongjiang, Jiangsu, Jiangxi, Henan, and Yunnan, and the Ningxia Hui, Inner Mongolia and Guangxi Zhuang autonomous regions.
From late November, the inspection teams visited seven more areas - the municipalities of Beijing, Shanghai, Chongqing and provinces of Hubei, Guangdong, Shaanxi and Gansu.
By the end of this year, central-level inspections will cover every province, autonomous region and municipality, according to Chen.