Provincial workers helping to clear the air
The arrival of a central inspection team resulted in four weeks of intense physical and psychological stress for Zhao Zhenwei, head of the environmental supervision bureau in Heilongjiang province.
On July 19, the team officially started its month-long operation in Heilongjiang. "(It was) a surprising and swift inspection, and also the first thorough environmental survey conducted by such a high-level squad in the last 20 years," said Zhao, who has worked for the bureau since 1993.
During those four weeks, the inspections became the top priority for Zhao and his coworkers. They were tasked with leading teams to support the central inspectors by explaining their demands to relevant departments and local governments, collecting related materials and conducting coordination work.
In the first 10 days, the inspectors reviewed policies and materials, such as the records of major meetings on environmental protection from more than 60 districts and counties since 2013.
Environmental bureaus do not usually keep such records, and most local and provincial governments don't expect such thorough investigations, Zhao said.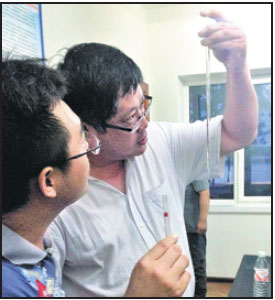 Zhao Zhenwei examines monitoring equipment.Provided To China Daily
"But the counties and districts quickly handed in the documents demanded, usually the day after receiving notice. "There were so many documents that they were delivered in bags and I had to transport them to the inspectors by handcart. It was quite exhausting because we usually rushed to give the inspectors the materials they needed," he said.
As coordinators, Zhao and his team participated in a wide range of tasks, such as accompanying the inspectors when they met with 27 provincial leaders. "That reminded us that they were serious and would play hard", he said.
In addition, Zhao felt the mental strain, "we were concerned that they would expose some problems that we (environmental supervision workers) hadn't noticed. But that doesn't mean the province would hide anything - the inspections were an opportunity to check our own work and improve protection," he said.
After four weeks of intense activity, companies became more willing to protect the environment, according to Zhao.
For example, residents living near the Haotian Corn Processing Plant in Suihua city had complained about the pungent smell for more than two years.
The plant, whose emissions met national standards, made unsuccessful efforts to control the smell. In September, the owners increased investment in equipment designed to dispel the odor.
"Many long-standing problems, which we had taken many unsuccessful measures to correct, were solved thanks to the inspectors," Zhao said.
"The inspection had a deep influence on environmental protection efforts in Heilongjiang, which will help us to work efficiently in the future. We were exhausted, but it was worth it."
(