Rules to keep disciplinary teams honest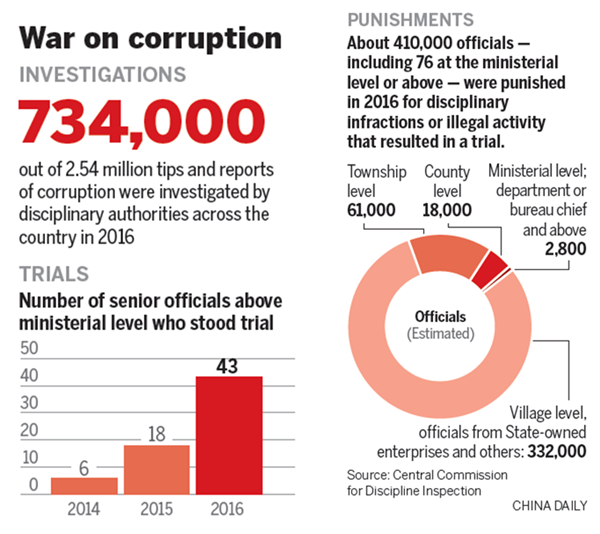 The country's 500,000-plus corruption investigators are being placed under stricter supervision as a regulation to standardize graft probes was adopted on Sunday.
Experts said the regulation, passed at the annual plenary meeting of the top anti-corruption watchdog — the Central Commission for Discipline Inspection of the Communist Party of China — can help ensure an unsullied disciplinary team, after some corrupt investigators were exposed.
The regulation, details of which were not released, sets clear standards on how to handle corruption tips, how to check and review cases and how to manage ill-gotten money and assets, according to a report published on the commission's website on Sunday.
It also encourages audio and video recordings throughout the entire process of the interrogation and the establishment of a registration system for those who make inquires about, or try to interfere in, the cases, the report said.
"Trust (in disciplinary officials) cannot replace supervision," a meeting communique released on Sunday said. "We must make sure the power granted by the Party and the people is not abused."
Many commission members who attended the three-day meeting said they have felt rising pressure on disciplinary officials. In recent years, President Xi Jinping has repeatedly required officials to "clean house" to ensure a trustworthy disciplinary team.
"As those who enforce anti-graft rules, we must first place ourselves under scrutiny," said Liu Qifan, head of the anti-corruption watchdog in the Inner Mongolia autonomous region.
China launched a massive anti-corruption and austerity campaign as the top Party leadership was elected in late 2012.
Xi said on Friday that years of effort have stopped corruption from spreading, and a "crushing momentum" against graft has taken shape.
However, some disciplinary officials have become conceited with the anti-corruption achievements, and a small number of them have loosened their self-restraint and become corrupt themselves, said Wang Yanfei, head of the provincial discipline watchdog in Sichuan province.
Since late 2012, more than 7,900 disciplinary officials from across the country have been punished for various types of wrongdoing, with 17 from the top anti-corruption watchdog being placed under investigation in graft probes, according to figures from the commission.
Last week, a three-episode TV documentary produced by the commission, named To Forge an Iron, One Must Be Strong Oneself, offered the public a rare glimpse into guilty officials from discipline inspection authorities.
It features the cases of 10 former anti-graft officials, including Zhu Mingguo, who was once in charge of fighting corruption in Guangdong province.
In the documentary, Zhu, convicted in November of taking bribes of 141 million yuan ($20.4 million), admitted that he made use of his position. He said he received over a thousand bottles of expensive alcohol as gifts, and had taken bribes as far back as the 1990s.
"It is very rare for the commission to make such a documentary for publicity," said Xie Chuntao, director of the Dean's Office of the CPC Central Committee Party School, adding that the move also reflects the commission's determination to strengthen self-supervision.
Wu Hui, associate professor at the Party School of the CPC Central Committee, said that the work rule for disciplinary inspectors is timely and necessary, as "it tells the public who supervises the disciplinary officials".
The new rule can help control the power of supervision and make disciplinary authorities' work more transparent and standardized, he added.
Contact the writers at caoyin@chinadaily.com.cn.