15 UN panda envoys visit Chengdu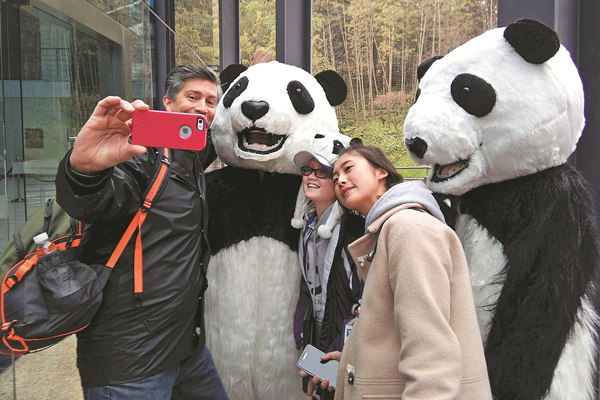 Madelyn Ruyle (middle), 11, from the United States, is one of 17 United Nations panda champions, 15 of whom are visiting Chengdu, Sichuan province, this week. Her father, who accompanied her, takes a photo.
Sixteen-year-old Vera Kalinina, from Sudoverf, Russia, was thrilled to see live pandas on Monday at the Chengdu Research Base of Giant Panda Breeding in Sichuan province.
It's appropriate because Kalinina is one of 17 people from 14 countries chosen to be United Nations Panda Champions for the Global Goals. For five days this week, 15 of the 17 are in Chengdu to learn about pandas.
The envoys are from Algeria, Nigeria, Britain, Russia, France, Mexico, Columbia, Peru, Jordan, the United States, South Korea, Pakistan, China and Japan. Their trip, financed by the breeding center, is part of their prize for winning an online contest. Two of the panda envoys couldn't make the trip.
Learning about pandas, listed internationally as a vulnerable species, will help them spread the word about the UN sustainable development goals back at home, officials said. The goals include ending hunger and protecting oceans and forests.
The group of 15 includes an artist and writer, six students, a university faculty member, a government employee, a communications professional, a graphic designer, a researcher, a Chinese paper-cutting master, the founder of a nonprofit group and a tech freelancer.
They also will meet Qiqi and Diandian, twin pandas who are the UN Development Programme's first Animal Ambassadors.
Through Friday, the 15 champions will be involved in taking care of panda cubs, engaging in wilderness training to learn about reintroducing captive pandas to the wild in the Dujiangyan Field Center, and tracking wild pandas in the Sichuan Longxi-Hongkou National Nature Reserve, according to Chen Cheng, spokeswoman for the center.
"This will allow them to experience the whole process in person: from captive breeding to efforts to reintroduce pandas to nature," she said.
They will also discuss development issues and their hopes for the future with primary school students in Chengdu, officials said.
Madelyn Ruyle, 11, is the youngest of the 17 envoys.
The elementary school student from Tampa, Florida, in the US, is on her first Asian trip and is accompanied by her father, Jim Ruyle, a pharmacy sales executive.
Madelyn has loved pandas since she was 6 years old and has visited US zoos that have them, her father said. She loves volunteering at her church and school, and is eager to spread the word about sustainable development goals, he said.