A floating college of naval expertise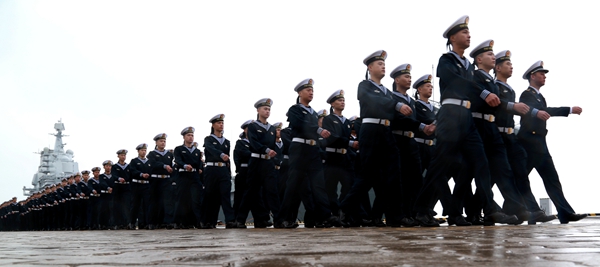 Members of CNS Liaoning's crew march along the dockside in Qingdao, Shandong province. Zhang Zhihao/ China Daily
Passing the torch
There is a slogan on the Liaoning: "Carrier duty is not a candle, but a torch. The veterans have to keep it burning bright, and pass it to the next generation."
Cui Yuxiao, 37, a third class petty officer responsible for the ship's anti-aircraft missiles, requires his men to study their equipment extensively, from casing to circuitry. "Love your weapons like your eyes. We must know the equipment inside out to be absolutely confident," he said.
Most of the vessel's new recruits are recent graduates of the nation's naval academy and have gone through rigorous exams, ranging from computing lessons to English skills, so "they know how to study and learn very fast", said Xu Bochao, a teaching administrator from the engine unit.
Some lessons come when least expected. One night, a sailor was dozing off in the battle command room, the ship's operational nerve center, when the radar picked up an incoming signal.
Yi Guo, the second class petty officer in charge that night, noticed the onscreen anomaly and reported the target's details to his superiors. The target turned out to be a drill designed to assess the crew's alertness and readiness. The 39-year-old officer urged the young sailor to "stay vigilant, even during drills".
Some officers teach by example. Wang Wei has enriched his life by reading widely and he encourages his subordinates to do the same. "I keep a dictionary of idioms in my locker," Wang said. "People may be amused by that, but if I find a book useful, I read it."
He also likes to use metaphors to convey a sense of duty and purpose to the young recruits. "We should be like sunflowers - even if we are working below decks, our hearts should be filled with sunlight," he said.
During a media tour of the Liaoning, Li Zha, a 27-year-old deputy squad leader from the boiler team, opened a small hatch on one of the steam boilers to display the purple flames inside. "This is the soul of the carrier," he said. "It's also my 'sun'. Isn't it pretty?"
Contact the writer at zhangzhihao@chinadaily.com.cn
Related:
I have learned to become a strong, independent woman