A floating college of naval expertise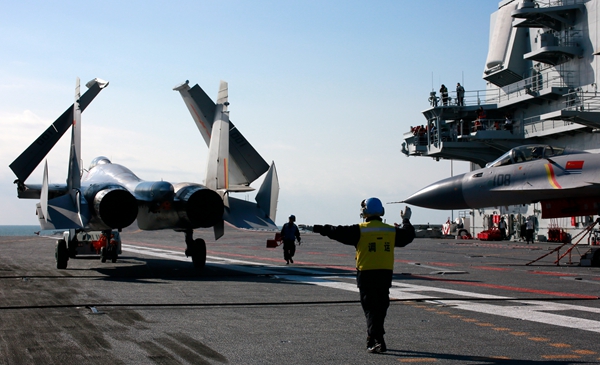 A member of the ground crew directs the pilot of a J-15 jet fighter on the flight deck of CNS Liaoning. Zhang Kai / For China Daily
Officers aboard the nation's first aircraft carrier are preparing a new generation of sailors for the PLA Navy. Zhang Zhihao reports from CNS Liaoning.
CNS Liaoning, China's first aircraft carrier, is currently serving as a training ship for the next generation of officers who will serve on the country's aircraft carriers. The role is paramount because the defense ministry confirmed that construction of a second carrier had neared completion on Oct 27, as per schedule.
According to the website of People's Daily, Cao Weidong, a naval expert and officer in the People's Liberation Army, expects to see the second carrier finished sometime in the next two years.
The training techniques and personnel on the Liaoning have been shrouded in mystery, until now.
Li Dongyou, the ship's political commissar, said 42 senior officers serve on the vessel as instructors, and most of them were members of the carrier's refitting team in 2009. "Now, they are the technical backbones of their departments and role models for young recruits," he said.
PLA Navy documents show that each senior officer has trained three or more squad leaders on average, accounting for 70 percent of the young officers onboard.
Risking lives for knowledge
These officers were either selected based on their expertise or were volunteers who "wanted to serve on a bigger ship and be a part of history", said Ruan Wanlin, 44, a first class petty officer.
Although they have served in the navy for more than two decades and have combined experience of more than 450 missions, the officers said transforming the Varyag, a former Soviet Union battle cruiser, into the CNS Liaoning was the biggest challenge they had ever faced.
Liu Debo, 44, a first class petty officer with 26 years experience in boiler rooms, was stunned when he saw the Soviet vessel for the first time. "It was a floating junkyard," he recalled.
Originally laid down as a Kuznetsov-class carrier named Riga for the Soviet navy in 1985, the ship was renamed Varyag in 1990. The USSR collapsed before construction could be completed, so the hull was transferred to Ukraine where it lay untended until it was bought by China in 1998.
In 2002, the ship arrived in Dalian, Liaoning province, where the hull, engine, and radar and electronics systems were fully upgraded.
In the winter of 2009, Liu boarded the Liaoning to repair its engine - "the heart of the carrier" - but problems soon arose. "There were no design layouts, no models and no experience to rely on," Liu said. "We had to start everything from scratch."
CNS Liaoning has about 20 decks, containing more than 3,600 rooms, served by about 10,000 kilometers of wires and pipes. When Liu and the team began their survey of the vessel, the interior had neither ventilation nor lights, and the maze-like tunnels were filled with broken pipes and torn, rusty metal.
The teams went in with helmets, flashlights, facemasks and measuring equipment. "We climbed through every hatch, followed every pipe and drew every detail by hand. We risked our lives so that one day the ship would sail again," Liu said.
Second Class Petty Officer Wang Chunhui and his team descended into the dark, pungent fuel tanks to measure their dimensions. Each carried 30 minutes of air in tanks, but most members could only endure 15 minutes because of exhaustion and fear of getting poisoned.
The exception was Wang. The 38-year-old worked until his clothes were drenched in sweat and the alarm sounded on his respirator. When his young crew asked him to rest, he told them: "I have more experience than you guys; I have to do more."
After a typical working day, the officers often huddled around a blackboard in a meeting room until after midnight to discuss technical details, despite the temperature often dipping as low as -20 C. Having accumulated thousands of pages of notes, some of the officers have published operation manuals and training pamphlets.
On Sept 25, 2012, the vessel, now officially called CNS Liaoning, was handed over to the navy.
"If we ever build a museum to the Liaoning, I hope there will be a section where our broken hardhats and dirty gloves are exhibited so future generations know the hardships we went through," said Wang Wei, a 39-year-old second class petty officer, who surveyed the ship's electrical system.