I have learned to become a strong, independent woman
Zeng Xiaomeng, 25, recently married a pilot in The People's Liberation Armynavy.
Being a service wife now is different than before. My husband and I were on our honeymoon and we had just taken our wedding photos when he was called away unexpectedly to join a mission.
He couldn't tell me the details and was gone the next day.
He often says: "Sorry, but when I am wearing my shoulder insignia, it's hard for you to lean on me."
Many people ask: "Why marry a member of the PLA? He's never at home". I guess it must be true, unconditional love. He can't give me the life I crave, and yet I still want to be with him.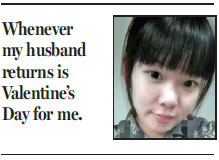 Sadly, with dating apps and family pressures, it's hard for many young women - usually their parents' only child - to commit to a long-distance, military relationship.
Being married to military man means locking up the "little princess" in our hearts and becoming the family's pillar of strength. It requires trust, courage and many sacrifices.
But in return, I cherish our time together and find immense joy in the simple things in life, even in this increasingly materialistic society. I don't need anyone to tell me when or how to celebrate Valentine's Day - whenever my husband returns is Valentine's Day for me, and we have great fun fishing or painting.
I have learned to become a strong, independent woman. When my husband leaves, I channel my longing into studying English and drawing "slice of life" comic strips about military life. With today's technology, military spouses can share their stories more creatively than before.
More skills mean better jobs. Unlike previous generations, we don't have siblings to take care of senior family members, so a couple has to shoulder the load for three families - both sets of parents and our own.
Fortunately, military spouses have formed a community on social media, so we can help each other and we never feel truly alone.
Zeng Xiaomeng spoke with Zhang Zhihao