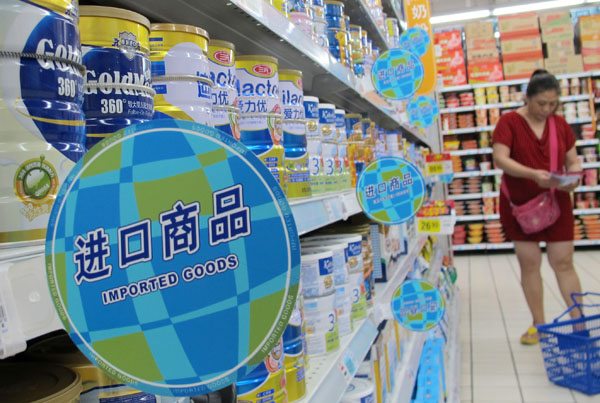 Inported milk powder section of a supermarket in Haikou, Hainan province, May 24, 2015.[Photo by Shi Yan for China Daily]
Domestic brands safe, but consumers remain wary; new regulations coming later this year
Imports of infant formula powder have more than tripled in the past five years after a series of food safety scandals involving domestically produced dairy products, according to China's top quality supervision authority.
China imported 176,000 metric tons of infant formula last year, more than tripling the 57,000 metric tons it imported in 2011, according to a report on the quality and safety of imported food in the past five years released by the General Administration of Quality Supervision, Inspection and Quarantine on Wednesday.
Imported infant formula comes from 18 countries and regions, with the biggest sources being the European Union, Southeast Asia and New Zealand, the report said.
Imported milk powder overall-including infant formula-also increased, taking a greater share of the Chinese market over the past five years, the report said.
On average China imported more than 1 million metric tons of milk powder annually in the past five years, accounting for about 20 percent of all sold in China, said Lin Wei, director of import and export food safety supervision.
Imported infant formula has generally met quality and food safety standards, but some lots failed inspection, he said. Inspection and quarantine authorities across China intercepted more than 133 metric tons of infant formula from overseas that failed standards, including some that contained high levels of microorganisms, Lin said.
In 2008, infant formula sold by Sanlu Group, a leading domestic dairy company, was found to contain toxic melamine, which killed four babies nationwide. Since that scandal, food and drug authorities in China have intensified their oversight of the sector.
The latest measure by the China Food and Drug Administration, which takes effect on Oct 1, requires all producers to register their formulas with the CFDA before they can be sold on the Chinese market. Each company can have up to nine formulas.
Last year, nearly 99 percent of all domestically produced infant formula met national standards, Teng Jiacai, deputy minister of the CFDA, said at a news conference earlier this month.
From 2008, the year of the dairy scandal, to 2015, imported milk powder, including baby formula, increased by more than five times, Teng said.
Even though the quality of infant formula produced domestically has improved, many Chinese still favor imported formula because they lack confidence in domestic products, Teng said, adding that time is needed for people's attitudes to change.