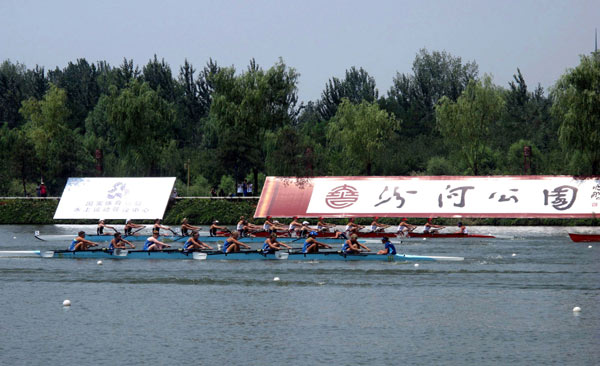 Athletes compete in the women's eight single-oar event. [Photo/chinadaily.com.cn]
Twelve rowing teams from leading world universities competed in the 2014 International University Rowing Regatta in Linfen, Shanxi province, on Sunday.
The race covered 1,000 meters. More than 160 athletes from 12 universities, including Amsterdam, Cambridge, Otago, Yale, Shanghai Jiao Tong and Xi'an Jiaotong, took part in the men's and women's eight single-oar event.
The University of Amsterdam won the men's event, while the University of Otago won the women's competition.
Organized by the China Water Sports Administration Center, the competition has been held in cities including Beijing, Shanghai, the capital of Henan province Zhengzhou, and Chengdu, the capital of Sichuan province, since 2001.
Han Jianguo, an official from the center, said the event offered opportunities to enjoy rowing competition and also acted as a platform to boost sports, culture and tourism development in Linfen.