Thirty Chinese salsa dance enthusiasts will fly to Cuba in September for an intensive certification process but they may find time for some sun and fun on the beach as well.
The trip will last 10 days and will be the third time Beijing-based instructor Geovany Gonzalez has sent Chinese dancers to experience salsa in Cuba over the past year.
"They will learn from Cubans who perform and teach the dance the way that made it famous 50 years ago," said Gonzalez, bouncing in his chair and slapping his arms to demonstrate the rhythm.
"Salsa means 'sauce' in both English and Spanish," he added. "It is a mix of chopped vegetables or fruit, especially tomatoes, onions and chili peppers, used as a condiment.
"The dance is as tasty as the sauce, neither of which is for show but, rather, spontaneous and natural."
These qualities, according to Gonzalez, form the soul of salsa.
Gonzalez is a Cuban who has been promoting his country's culture in Beijing for almost 10 years.
Early in 2008 he hosted free salsa classes for 40 people at his Guantanamera nightspot.
"The Chinese love to learn salsa because it's very different from their traditions," he said. "They have opened their minds and souls to things from Cuba."
The Cuban form of salsa is a bit different from what most people see on the international stage.
"It's a little looser," said Gonzalez. "Many people mistake salsa for New York salsa, thinking the dance was born in the United States. But salsa has its roots firmly based in the Afro-Spanish musical traditions of Cuba. I want more Chinese to experience the 'mother' of the style from Cuba."
Gonzalez first visited China in 2004 for a holiday when he was a member of a pop band called David Blanco. He played bass and also worked as the group's agent.
"Musicians are emotional and I am no exception," the 40-year-old said. "I wanted to make some life changes."
He married in China and settled in Beijing. He found it hard to obtain a job so he became his own boss.
Huo Yaohui, one of Gonzalez's first Chinese friends, has worked with him for years. Huo said Gonzalez is smart and creative, and full of fresh ideas.
"He is a true perfectionist," he added. "He sticks to a job around the clock, until the work is done."
Huo is the only Asian to have won a gold medal for salsa at the International Festival of Popular Dance of Cuba and is credited with bringing Cuban salsa dancing to Beijing.
By 2006, Gonzalez owned two companies - an advertising agency for Chinese companies opening businesses in Latin America and a restaurant offering Cuban food, art and live music.
"I love Cuba and its culture," Gonzalez said. "I believe opportunities occur when more people get to know it."
In 2013, Gonzalez started managing the Latin American and Caribbean Center, an arts and media hub that attracts a mix of cultures. Additionally, it offers Spanish language courses for children during the summer and winter holidays.
Gonzalez has booked the Ballet Nacional de Cuba to perform in China.
"The ballet company was founded by Alicia Alonso, a legendary Cuban prima ballerina and choreographer, and marks the highest level of Cuban ballet dancing," he said.
The company will embark on a tour of 15 Chinese cities in December.
lijing2009@chinadaily.com.cn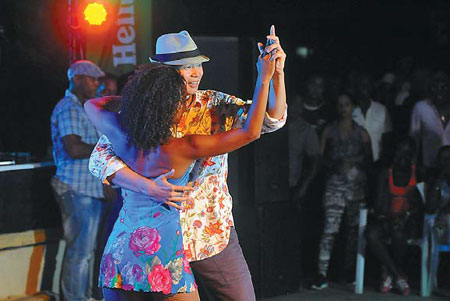 Salsa dancer Huo Yaohui performs with a local salsa teacher at an event in Havana. Huo is one of the Chinese salsa enthusiasts whom Geovany Gonzalez has sent to Cuba. Provided to China Daily
(China Daily 07/22/2014 page3)