Firefighters are often dusty and fully equipped at fires, but a series of photos showing a group of the public servants playing soccer has made them Internet stars.
The poster-style artistic photos include cloudy and rainy weather, training buildings, advanced firetrucks and fire hoses, as well as the most important element - handsome and rugged firefighters from the firefighting detachment of Chongqing's Yubei district.
The photos were issued on Monday by the official micro blog of a TV program under the Fire Department of the Ministry of Public Security. A caption reads: "I'm a soldier at the fire scene, and a star on the playground. We are not being crazy, but are just celebrating the World Cup in our own way."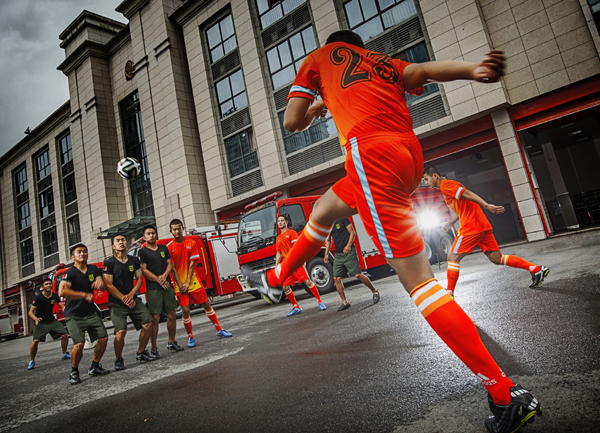 Firefighters from Chongqing's Yubei district play soccer to celebrate the World Cup in a publicity photo released on Monday. A group of photos, including this one, was issued by a TV program under the Fire Department of the Ministry of Public Security. Provided to China Daily
Netizens expressed their approval of the photos, and some female netizens asked how to contact the firefighters, saying, "Have they got girlfriends yet?"
"We took the photos to show the positive image of firefighters in the new era, and to connect them with the World Cup to warn people not to forget fire protection while watching the games," said Su Guorong, political commissar of the firefighting detachment, which jointly planned and took the photos with the TV program.
The photos were taken with the theme of firefighters going back to the squadron to play soccer after finishing a firefighting task. They used the training field as a playground and the fire hoses as goal posts.
The 11 "soccer players" were picked from the squadrons under the district's firefighting detachment on the basis of their professional ability, appearance and figure. "They must also be soccer fans, which helps them do better during the photography," Su said.
Chen Shan, director of the Chongqing Fire Corps publicity department, said the photos provide a chance for people to learn about firefighters and fire protection.
Bao Qinghong, 25, said they spent six hours taking the photos.
"I really hope my parents can see the photos, although I haven't got the chance to call them because of the strict discipline," Bao said. Bao is from Leshan, Sichuan province, and goes home only once a year.
jijin@chinadaily.com.cn
pengchao@chinadaily.com.cn
(China Daily 06/25/2014 page5)