BEIJING -- China will launch upgraded satellites and expand its regional Beidou Navigation Satellite System (BDS) to global coverage by 2020, a spokesman for the system said on Friday.
"BDS's general performance is expected to be improved by one to two times the current level and its positioning accuracy could be upgraded to the meter or even sub-meter level" by 2020, BDS spokesman Ran Chengqi said at a press conference.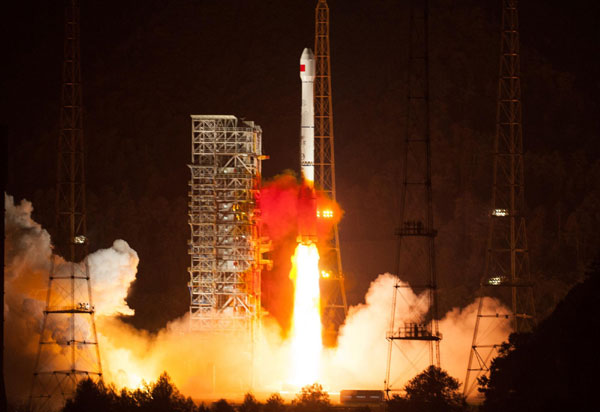 China successfully launched another satellite into space for its indigenous global navigation and positioning network in this file photo. Photo taken on Oct 25, 2012 from the Xichang Satellite Launch Center in the southwestern province of Sichuan. [Photo/Xinhua]
BDS began providing positioning, navigation, timing and short message services to civilian users in China and surrounding areas in the Asia-Pacific region in December 2012.
Over the past year, positioning has been accurate to within ten meters, according to Ran, director of the satellite navigation office.
"Performance is better in some regions," he said. Accuracy can reach seven meters in Chinese cities like Beijing, Zhengzhou, Xi'an and Urumqi, and five meters in low-latitude regions such as the Association of Southeast Asia Nations (ASEAN).
The office issued an interface control document (ICD) for open service signal B2I in both Chinese and English on Thursday.
"B2I, which updates B1I released last year, means that BDS has entered the era of multifrequency application," Ran said. "It means the system can provide more accurate navigation."
Companies from both home and abroad could develop high-precision dual-frequency BDS receivers on this basis, according to the spokesman.
The BDS industry has achieved breakthroughs in key technologies in core chips and modules, upgrading product performance to the international level, Ran said.
The Beidou chips can be installed in vehicles and mobile phones.
The system and its compatible products have been used in fields such as transportation, marine fishery, hydrologic monitoring, weather forecasting, geodetic surveying, intelligent driving tests, and disaster relief.
More than 50,000 BDS terminals have been installed on fishing vessels so far, which ensured a safer journey for fishermen and helped to increase their income, Ran said.
Nearly 150,000 passenger vehicles and cargo trucks transporting dangerous materials have also been installed with BDS terminals to help management agencies spot illegal operations.
Ran predicts BeiDou will take about 30 percent of the now GPS-dominated domestic satellite navigation market by 2015 and gain a larger share after 2020.
China's State Council, or the cabinet, approved a mid- and long-term plan for development of the satellite navigation industry in September.
According to the plan, China will boost its satellite navigation industry to more than 400 billion yuan ($65.9 billion dollars) by 2020.
China has all along adopted an open, cooperative and resource-sharing attitude in its development of BDS, Ran said.
The world's satellite navigation market is currently dominated by four systems, Russia's GLONASS, the U.S. GPS, the European Union's Galileo and China's BDS.
BDS has sustained compatibility and interoperability coordination with GPS, GLONASS and Galileo in the past year to offer better service to the world, he said.
Beidou is the Chinese name for the seven-star cluster known in English as the Big Dipper.
The Beidou system will include more than 30 satellites and a ground control operation system by 2020 in order to serve global clients.
China launched the first BDS satellite in 2000. Prior to the official launch of the system a year ago, a preliminary version of the system has been used in traffic control, weather forecasting and disaster relief since 2003.