BEIJING - China's defense ministry spokesman Geng Yansheng on Wednesday said the country has observed US B-52 bombers flying in the newly established air defense identification zone over East China Sea.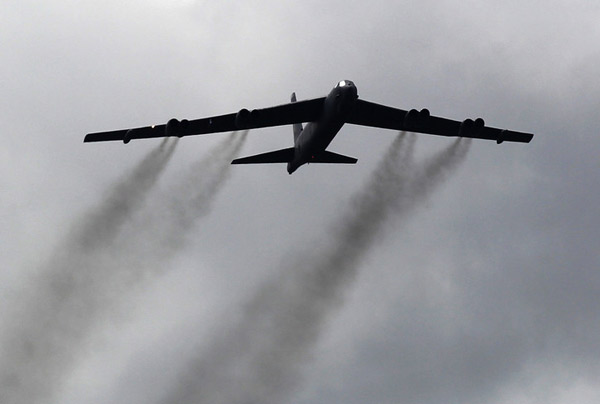 A B-52 bomber flies past the airfield during the Farnborough International Airshow, Farnborough, England, July 10, 2012. [Photo/Icpress.cn]
Geng said the US aircraft flew south and north along the eastern border of the East China Sea Air Defense Identification Zone from 11:00 am to 1:22 pm Tuesday, about 200 km to the east of the Diaoyu Islands.
The Chinese army monitored the entire process, carried out identification in a timely manner, and ascertained the type of aircraft.
"We need to stress that China will identify every aircraft flying in the air defense identification zone according to the country's announcement of aircraft identification rules for the air defense identification zone," Geng said.
"China is capable of exercising effective control over this airspace," Geng added.
China announced the East China Sea Air Defense Identification Zone on Saturday. The US State Department and certain officials expressed concern after the announcement.
Pentagon spokesman Colonel Steven Warren said Tuesday that the US conducted a training exercise that had been planned for a long time. It involved two aircraft flying from Guam and returning to Guam.