SHENYANG - A high-profile memorial service was held for Luo Yang on Thursday morning in Shenyang, the provincial capital of Liaoning where China's new J-15 fighter jet was produced.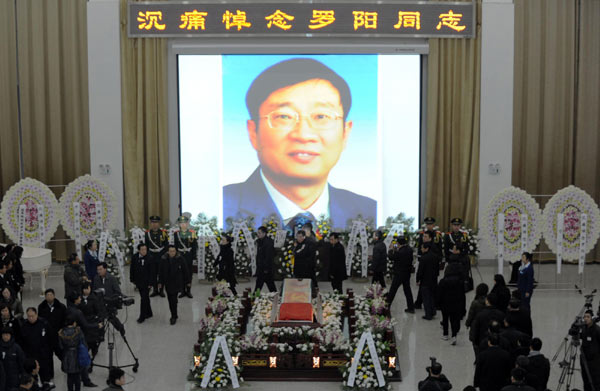 People pay tribute to Luo Yang during a memorial service in Shenyang, Nov 29, 2012. [Photo/Xinhua]
Luo, head of the production phase of the J-15, experienced a heart attack on Sunday after observing aircraft carrier flight landing tests for China's first aircraft carrier, the Liaoning. He later died in hospital.
He was also chairman and general manager of Shenyang Aircraft Corp (SAC), a subsidiary of China's state-owned aircraft maker, Aviation Industry Corp of China (AVIC).
Thousands of people stood in silence in the Huilonggang Cemetery for Revolutionaries in a tearful farewell to Luo.