CHONGQING - A village official in southwest China's Chongqing Municipality on Wednesday appealed against a two-year sentence of re-education through labor despite being released after serving little more than a year of his term in a labor camp.
The appeal came nine days after Ren Jianyu, an official in Pengshui County, was freed and eight days after a local court dismissed his father's appeal on his behalf against the imprisonment.
Ren, 25, was arrested on August 17, 2011 after forwarding and commenting on more than 100 pieces of "negative information" and given a two-year term in a labor camp for "incitement to subvert state power" without a court process a month later.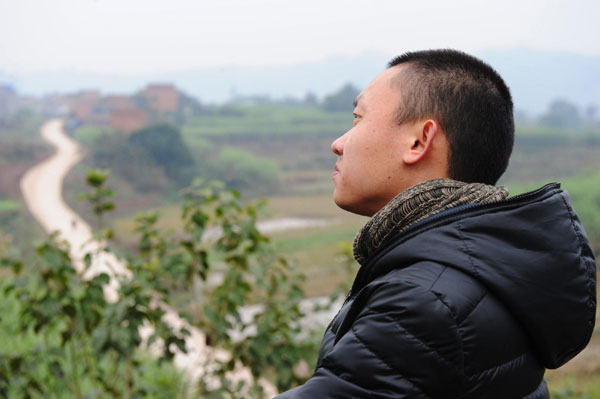 Photo taken on Nov 27, 2012 shows Ren Jianyu, a village official in southwest China's Chongqing Municipality, in his hometown in Chongqing. [Photo/Xinhua] 
The Chongqing municipal re-education through labor committee reviewed the imprisonment, however, and freed Ren on November 19, saying the punishment was "improper."
A day later, the Chongqing No.3 intermediate people's court rejected the father's appeal filed in August this year, saying that "the appeal should have come within three months after the re-education term was given."
Ren, however, said the time limit set for appeals had not been exceeded and the court should rule that his two-year sentence was illegal.
"I will continue to appeal for my innocence and social justice," Ren told Xinhua in an interview. Meanwhile, he will also appeal for state compensation and resumption of his civil servant status, he said.
"Now whenever I talk with people, I feel terrified and hope to finish the conversation sooner," he said. "This is the bigger harm re-education through labor has brought to me."
"I was scared at the moment when I was arrested. Meanwhile, I felt it ridiculous and unbelievable: have I subverted state power just because I forwarded a couple of microblog postings? Millions of netizens express their own viewpoints online and should they all be imprisoned in labor camps?" Ren asked.
He said he was "disappointed" with the court's dismissal of his earlier appeal.
"There were fundamental differences between ruling my imprisonment 'improper' or 'illegal'. This has a direct bearing on my innocence and social justice," according to Ren.
The former prisoner also lashed out at the "re-education through labor" system.
"The system is against the rule of law and is too arbitrary," he said. "The re-education through labor committee can independently deprive people of their personal freedom and there are no specific rules on how long the freedom can be denied. This kind of law enforcement is too horrible."
Ren's case has sparked outcry from netizens as well as law experts.
"Ren Jianyu is now freed. But there is still no specific explanation on his earlier loss of freedom," said a microblogger under the name of "Tutu" on popular Twitter-like service Weibo.com.
Chen Zhonglin, dean of the law school at Chongqing University, said the key to reforming the re-education system is to place the procedure and the re-education approval rights in the hands of an independent agency with the police authorities.
Many also said that while reforming the re-education through labor system on the basis that "noboby's personal freedom can be denied without trials" should come first.
Meanwhile, while building a country with the rule of law, the government should unveil specific rules that no person will be imprisoned in labor camps over their comments, critics have urged.