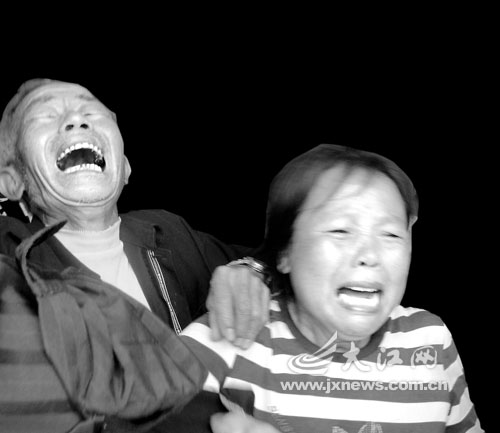 [Photo/jxnews.com.cn]
The agony on their face says it all.
Wang Jiushou, 72, and his wife break down as they face the coffins of their five dead grandchildren who drowned after going for a wash in a village pond in East China's Jiangxi province.
On the afternoon of May 6, Wang's six grandchildren went to the pond in Tangxi village, Yichun city.
Only the youngest one returned. The lifeless bodies of his five cousins – all known as 'left behind children' as their parents move away to work in other cities – were pulled from the pond by villagers an hour later.
The cause of their deaths - four girls and one boy aged between six and 11 – are now under investigation, but the grief for the family has just begun.
Wang Guangzhong, Wang Jiushou's eldest son, lost two girls and one boy. He suffers from severe form of the skin disease leucoderma and was working more than 80 kilometers away on a building site with his wife, and both fainted upon hearing the news.
Second son Wang Guangjun and his wife Wang Cixiu lost two girls. They were both working in Shenzhen when told about the tragedy.
They moved to the southern city to work after falling into debt building houses, said Wang Cixiu.
"Luckily, we still have a son. We will never go to work in other cities any more however hard life is," said Wang.
The desperate plight of the grandma who tried to summon help when she heard of the drowning also shines a spotlight on villages that have become empty of young adults who have left to find work in the cities.
The woman tried to get help but couldn't find any young people. Finally, she found a motorcycle taxi and two young people to help. But it was too late.
Villagers say it is often difficult to see young adults in the village because most have left to go to cities to work.
Statistics show that as of the end of 2010, China had 58 million left-behind children because parents were too busy to take care of them or had difficulty gaining a school place near where they moved to work.