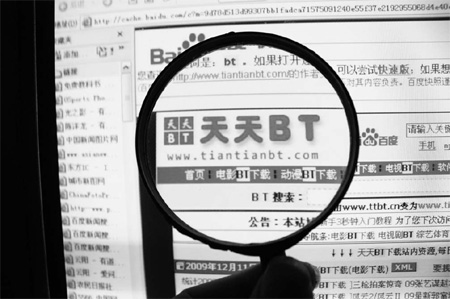 Searching tiantianbt.com. On its website site there is a notice saying it has annulled all links for downloads. The anti-piracy trend is bringing the BT industry into center stage. Asianewsphoto
More than 360 illegal websites closed in nationwide campaign
China has made notable progress in its crackdown on Internet piracy and copyright infringement following a campaign lasting several months.
A total of 541 Internet copyright infringement cases have been investigated and 362 illegal websites have been closed since the nationwide special clampdown was jointly launched in August by the National Copyright Administration of China (NCAC), the Ministry of Public Security and Ministry of Industry and Information Technology, the NCAC said in a statement.
Police have confiscated 154 web servers and ordered websites to delete 500 examples of infringing content. Fines imposed on websites involved in Internet piracy topped 1.28 million yuan during the campaign.
NCAC publicized 10 Internet piracy cases, ranging from pirated works of literature to unauthorized music, movies, TV series and illicit games.
Online sellers of the pirated book "Zhu Rongji's Answers to Journalists' Questions", which contains the former premier's answers in media interviews and speeches delivered overseas, have been fined or received warnings.
Other cases were either transferred to public security departments for further investigation or to people's courts for public prosecution, the NCAC said.
Wang Ziqiang, an official from NCAC, said at an Internet copyright protection forum held in Beijing that works of literature, films, TVs and games were key targets of the country's crackdown on Internet piracy in 2009.
"The rapid development and wide application of Internet technology is changing the way information is spreading, and also leading to more diversified piracy and copyright infringement activities," Wang said.
The Chinese government has kept a close eye on the protection of intellectual property rights on the Internet, supervising a total of 3,029 major websites in China including Baidu and Sina.
On August 20, the website controller of "Tomato Garden", which provided downloads of pirated software including Windows XP, was sentenced to three-and-a-half years in jail and fined 1 million yuan. It was the country's first criminal case of Internet piracy.
In an investigation into illegal video and visual websites by the State Administration of Radio Film and Television, several famous Bit Torrent (BT) websites were closed because they were operating without a license. The campaign acts as a warning to all the video and visual websites in the country, the authorities said.
BTChina is among those influenced BT websites. On the home page of a website called "TianTian BT", there is also a notice saying it has annulled all links for downloading material and couldn't offer programs, online playing or even transmitting because it didn't possess the relevant license.
Some websites for video sharing, online video and other features said they were troubled by the copyright issue even though they have obtained the license. They said the action taken by the State Administration of Radio Film and Television will have a huge impact on the video industry.
The global anti-piracy trend brings the BT industry into center stage. Because much content is pirated, the huge stream of file sharing resulting from using free BT is regarded as the "waste water" of the industry. According to advertisers, the value of BT websites resides in the stream, which is gained by pirating legal videos. The closing of BT websites delivers a blow to the streaming data of video websites and is good for the legal ones.
The country has also made great progress in patent applications in the IT field, according to the government.
The Ministry of Industry and Information Technology (MIIT) said at the end of September of 2009 that 980,000 patent applications were filed by IT businesses, up 180,000 or 22 percent from 2008.
Computer and automation, measuring and testing and radar navigation are among the nine technologies in the IT field with the fastest growth in patent filings. In addition, companies on the mainland engaging in communications, PC production, and the making of batteries and household appliances are susceptible to innovation awareness and harvest many patents accordingly.
Although the IT industry saw a rise in intellectual property in 2009, the intrinsic weakness of certain technologies remains unresolved.
More effort should be made to implement an anti-piracy strategy, bolster intellectual property rights-related works, advocate bold innovation and constantly beef up companies' ability in terms of the creation of intellectual property rights and their application, said Lou Qinjian, vice-minister of MIIT.
Xinhua
(China Daily 12/28/2009 page9)