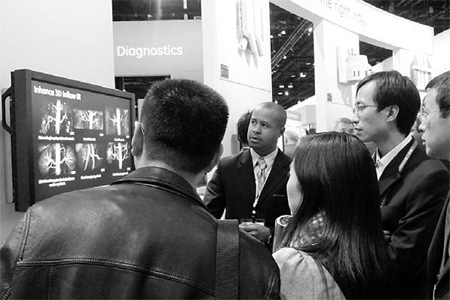 A GE Healthcare sales staff member (middle) introduces new GE diagnostic equipment and solutions to Chinese clients at the Radiology Society of North America held this month in Chicago, Illinois. The US-based medical equipment and solution provider wants to expand its business operations in China's rural areas. Liu Jie
With five-star red flags in their hands and smiles on their faces, John Dineen, president and CEO of GE Healthcare worldwide, and Marcelo Mosci, president and CEO of GE Healthcare China, welcomed their Chinese customers and partners with big hugs and warm speeches at the Radiology Society of North America, held earlier this month in Chicago.
Half of the GE booth, the largest one at the world's most influential medical equipments exhibition, was filled with Chinese people during China Hour - an activity specifically designated by GE Healthcare, the US-based medical machine and solution provider - to show its respect to China and appreciation of the Chinese market.
"China is the second home for GE Healthcare," both of the senior executives said. And they meant it, given the company's noticeable business performance, sound relations with the government and partners, as well as the huge market potential presented by the emerging economy.
According to Mosci, GE Healthcare China's business is to "cross the billion-dollar barrier (in terms of sales) next year for the first time".
The company now has 4,000 employees here. It runs eight factories, mainly joint ventures, nationwide, with more than 600 engineers designing products in China and for China.
It has a research and development center in Shanghai enjoying $200 million of investment, where scientists research new technologies for it global business, not just China alone.
GE Healthcare China maintained two-digit growth over the last decade. So far China has contributed $4 billion to $5 billion in revenue to GE Healthcare, a $17-billion company.
A part of products made in China were exported to its international network, and many raw materials sourced in China are used in its global operations.
According to Mosci, GE Healthcare China plans to increase the number of employees by more than 10 percent or 500 new staff next year.
The company is constantly looking for mergers and acquisitions or joint venture opportunities in China, because "having local players as partners makes us more local, makes us understand better the market", said Mosci. "So there is no other country in the world other than the United States where GE has the full capability right we have in China."
Medical reform
The Chinese government announced last year it would invest 850 billion yuan in a reform of the medical care system within three years. And 25 percent is for medical infrastructure construction, including building hospitals and installing medical equipment.
"China is going to build out its healthcare infrastructure over the next 10 years. There are tremendous challenges and we want to position our business to be able to help China with that huge task," said Dineen. "The reform is to bring 500 million Chinese people who are outside the medical insurance system into the system."
GE Healthcare released what it called its Healthymagination strategy earlier this year, committing $6 billion within the next six years to support healthcare initiatives around the world: $3 billion in research and development, $2 billion for financing information technology and healthcare access in rural areas, and $1 billion for healthcare partnerships and other services.
The company says it is committed to developing solutions that lower the cost of healthcare and are more affordability, expanding access to more people and also increasing the quality of healthcare.
GE Healthcare now occupies more than 40 percent of China's healthcare equipment market. It realizes the rural market is still virgin land to it and a key area for development at the next step.
GE Healthcare is not only eyeing selling equipment but also providing integrated solutions and IT systems there.
It has developed small-sized, movable and easily-operated diagnosis and treatment gadgets, enabling people to use them in small clinics and remote mountainous areas at relatively low cost.
If a rural patient needs medical care services, data acquired by the equipment locally can be transmitted wirelessly to big hospitals in key cities, where specialized doctors will conduct long-distance diagnosis and treatment.
Meanwhile, all data and the medical history of the patients will be recorded, saving the cost of repeat medical examinations and enhanced diagnostic accuracy.
According to Mosci, the difference between GE Healthcare and its counterparts, especially its domestic peers, is that his company oversees the entire system, involving doctors, education, machines, data transmitting and electronic medical records.
"Our Healthymagination strategy is looking at solutions, not pieces. We want to provide help across the entire package, because technology or equipment alone do not fix problems," he said.
Medical market research house IMS Health said that thesize of the global medical devices market reached $206.59 billion last year, up 6 percent from 2007. Sales of medical appliances in China amounted to 69.44 billion yuan in 2008, occupying 5 percent of the international market. But insiders predict two-digit growth year-on-year over the coming five years.
China's medical equipment market to date is dominated by a group of international giants, such as GE Healthcare, Siemens, Toshiba, Hitachi, HP and Philips.
Research conducted by domestic firm Search In China showed that in the medical imaging equipment market, GE Healthcare, Siemens and Philips respectively made up 34.8 percent, 20.2 percent and 15.1 percent of China's 1.29-billion-yuan computed tomography sector last year.
Cooperation strength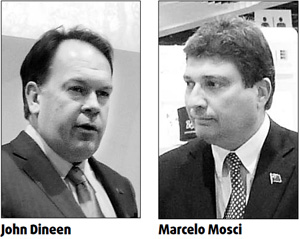 Both Dineen and Mosci stressed that cooperation with government and partners was most crucial for GE Healthcare's development in China.
Mosci took breast cancer diagnostic workflow as an example.
China currently starts diagnosis with ultrasound. But Mosci indicated that by time experts can detect the cancer by ultrasound, it's a little bit late, because it's visual. When they use tomography, the computer picks the calcification human eyes cannot see, so it's very early in the cancer's development.
Early diagnosis translates into a 90 percent survival rate. With a late diagnosis, the fatality rate can reach 90 percent. The early-versus-late price tags are dramatically different, too. If discovered early, breast cancer treatment can cost 10,000 to 20,000 yuan. If discovered late, treatment can cost 100,000 to 200,000 yuan.
"So, we should provide suggestions for the government and combine together with the medical community to help the government improve the workflow, to increase medical efficiency and reduce medical cost," said Mosci, a Brazilian who took up his job in March.
Before then, he was president and CEO of GE Latin America, responsible not only for healthcare but also aviation, railways and energy. He said that the medical care problems are the same in China and Latin America. The difference is how the governments are tackling the problem.
"China is very aggressive in fixing this problem. They say they are going to do it. They do it tomorrow morning. Other countries say 'I am going to do it'. It takes years," he said, highlighting that cooperation with governments along with partnerships with professional organizations may help not only the implementation of China's medical reform, but also GE Healthcare's progress in the world's third largest economy.
Dineen, who has worked in China for 18 years, further explained that China was "not just an area for some additional (GE) growth, but it has become a centerpiece to our strategy around the world - it's a second home for GE".
(China Daily 12/21/2009 page4)