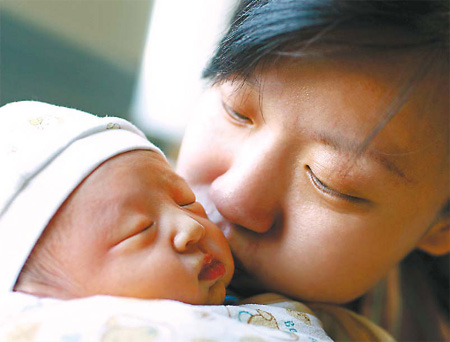 Xu Qing has her baby Qi Qi delivered at foreign-run Beijing United Family Hospital at a cost of 56,000 yuan, which is about 10 times the price for similar services at a public hospital. File photo
Xu Qing and Yu Bo Liang are among a growing number of couples in China's burgeoning middle class who are seeking medical treatment in foreign hospitals.
The couple had their baby Qi Qi delivered at the foreign-run United Family Hospital in Beijing.
In a recent report, Euromonitor International, the retail research group, said Chinese people were spending $92.9 billion on medical services and health goods, an 86 percent increase from the $50 billion spent in 2003.
There is also a boom in the building of foreign hospitals in China's major cities by leading players such as United Family Hospital, backed by US-based Chindex International, Singapore's Parkway Group Healthcare and Hong Kong-based Global Healthcare.
Xu, 29, better known by her English name, May Xu, said she opted to have her baby at Beijing United Family Hospital in Chaoyang District.
"I had my own personal obstetrics doctor throughout my pregnancy who got to know me personally over several visits," she said.
"At a public hospital, every appointment would have meant waiting in line for three hours, and you would have seen a different doctor each time."
Xu, who works in marketing, and her husband Yu, 41, an engineer, also didn't mind paying the 56,000 yuan cost of having a baby delivered at the private hospital, even though it was about 10 times the 5,000 yuan to 7,000 yuan cost at a State-owned hospital.
By going private, the couple had to forgo having part of the cost reimbursed, which is available in State-run hospitals but not in the private healthcare sector.
"We didn't have any private medical insurance, so we had to pay the whole amount in cash," Xu said.
China represents a huge opportunity for the world's medical services industry, since the country has the potential to become the biggest market in the world from what until recently was a very low base.
The target group is the middle class. By 2017, China will have 50 million families whose annual income will range from $7,500 to $50,000, according to a MasterCard report.
China also ranks third among the world's countries in the number of families (417,000) with assets of more than $1 million, according to Boston Consultancy Group.
Roberta Lipson, who in 1997 founded China's first foreign-owned hospital, Beijing United Family Hospital, where Xu had her baby, said there is a major role to be played by the private sector in China's healthcare system.
She says the hospital was initially built to serve foreign expatriates, but it soon became clear there was a significant demand for private healthcare from the local population.
Local patients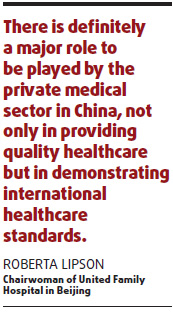 "When we first opened, the people who came were foreigners. We were actually quite surprised when the first local people started walking through the door, since China was at a very different level of economic development even 12 years ago," said Lipson, who is also the hospital's chairwoman.
"There is definitely a major role to be played by the private medical sector in China, not only in providing quality healthcare but in demonstrating international healthcare standards," she said.
There have been private hospitals in China for a number of years.
Far from being up-market, some serviced the needs of migrant workers or filled in gaps in the healthcare network in remote rural areas.
What paved the way for high-end foreign hospital investments was China joining the World Trade Organization in 2001.
This allowed international healthcare companies unlimited access to the China market, but only if they had a Chinese business partner.
In 2007, then Minister of Health Gao Qiang gave the green light to foreign hospital owners having a majority share in joint ventures, up to a maximum of 70 percent.
Since then, there has been a wave of foreign hospital investments in China. By 2008, an estimated 300 proposals for the establishment of hospitals in China had been approved by the Ministry of Health.
One company on the expansion trail is Parkway Health, a Singapore-based hospital group.
It opened the Gleneagles International Medical Center in Shanghai and is now looking to expand to Beijing and Guangzhou.
Jeffrey Staples, the company's CEO, said the group had ambitious plans.
"We will put in place the investment so that we can open a number of new facilities in 2010," Staples said.
All eyes now are on the details of the Chinese government's proposed healthcare reforms, which are still being finalized.
Many in the private sector hope they will allow Chinese people to obtain reimbursement for at least part of the cost of their medical treatment at private, as well as public, hospitals
Anna Zhao, an expert in the healthcare sector for UK Trade and Investment at the British Embassy in Beijing, said she believes such a move could be a key stage in the development of foreign hospitals in China.
Policy questions
"Everything really depends on the new strategy, and we are awaiting what the policy will be," she said.
"If the government opens the door to private providers, it wants them to be complementary to the current system, rather than competing," Zhao added.
Another major issue is the lack of private medical insurance in China. Foreigners who buy private healthcare in China typically utilize the private medical policies they have in their home country, which offer worldwide coverage for an extra premium.
The US-based insurance holding company American International Group Inc (AIG) entered the China market in 2005.
However, private medical insurance is relatively undeveloped in the country, and Chinese consumers typically find it too expensive.
"Without access to private medical insurance, it becomes a bit of a decision each time when it comes to accessing private medical care at a foreign hospital since you are having to pay cash rather than rely on your policy covering you," said Lipson, who is CEO of Chindex International, which runs Beijing United Family Hospital.
Yang Shichun, vice president of American Pacific Medical Group, a leading US medical services provider that owns 10 medical health facilities in China, said many foreign companies are playing a waiting game, wondering whether to enter the market.
"Actually, many big names have not entered China. They are observing," he said.
Yang said it is still far from straightforward to operate in China, citing the requirement that foreign companies find Chinese partners before opening for business.
A major problem is that the fees foreign hospitals charge often price Chinese consumers out of the market, he added.
"We have fantastic equipment and facilities, but the high fees are not always acceptable," Yang said.
Xu, the Beijing mother who gave birth to Qi Qi at Beijing United Family Hospital two years ago, said she is convinced it was worth paying the high cost.
"It was the level of personal attention you got that impressed me. We were able to discuss my living and eating habits. I liked to stay up late and drink coffee. The doctor said I could do that if I gave up Coca-Cola. In the State system, it would have been a straight no," she said.
"My husband was also allowed to be with me during delivery, which is not possible at a lot of public hospitals," Xu said.
Coco He, 30, who works in sales for China International Capital Corp, gave birth to a boy at foreign-run Amcare Women's and Children's Hospital in Beijing last year.
She said she was surprised at the difference in standards at foreign-run and State-run hospitals.
"The (private) hospital is clean and nicely decorated, with the walls painted in light blue and green, pictures on the walls and potted flowers placed around the rooms. There is no smell of disinfectant, either. All of these make you feel at home," she said.
"Unlike in the public sector, we could make an appointment for a fixed time. When we arrived, we were led straight away by a smiling girl to see the doctor," she said. Only days before, she had been to a State-owned women's hospital
"Nurses and doctors there were kind of rude and impatient, and my husband and I spent half a day for just a simple examination. We felt exhausted," she said.
Lipson of Chindex said couples who have babies in private hospitals tend to become long-term customers.
"When they have experienced first hand the sort of treatment they get here, they are naturally very reluctant to return to the public hospital sector," she said.
Xu has continued visiting the hospital for medical services for her family, citing the quality of care and also what she believes is a greater risk of infection at public hospitals.
"You have to wait for hours with a lot of sick children, and there is always the risk of picking up something," she said about public hospitals.
"I think this has been quite cost-effective going to a foreign hospital," she added. "The level of attention you get means you often only have to visit once and not make repeat visits, as in a public hospital."
Cost barriers
However, the cost of the foreign-run healthcare services means she and her husband are unlikely to have a second child, she said.
"I think if we had a second baby at a private hospital it would be difficult to afford to the sort of education we want for Qi Qi. If we did, we might have to consider using a public hospital, but we wouldn't want to do that," she said.
Cherrie Che, a healthcare analyst with business advisers Ernst & Young in China, said that although there are a growing number of foreign hospitals, the number is still relatively small.
Che said foreign investors from Europe and the United States will increasingly look to form joint ventures with established hospitals in China, but she added that such deals are fraught with complications.
"A big problem is in the accounting system. Their joint venture partners will be part of government services, and there is a problem interpreting the financial information as a result," she said.
She also cited uncertainties about the country's reimbursement system and the lack of private medical insurance in China
"The current government policy does not provide clear guidance to those wanting to make long-term investment decisions," she said.
Lipson said she believes the growth of foreign hospitals is unstoppable, because many Chinese consumers will demand the best quality healthcare for themselves and their families.
"If they go to a city, they want to stay at a five-star hotel, eat in a five-star restaurant and drive in a lovely car of their choosing. They are therefore demanding that level of service in healthcare. Patients want to feel valued and respected," she said.
(China Daily 12/05/2009 page1)