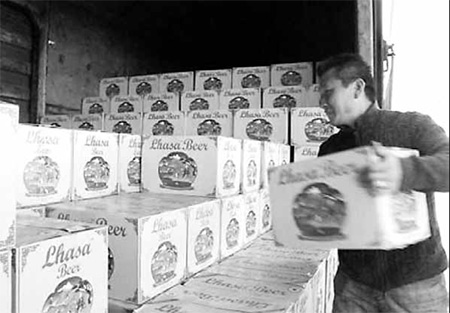 A worker handles boxes of highland barley beer at the Lhasa Railway Station. The beer, produced in Tibet by Lhasa Beer Co Ltd, has become more popular among Americans since the first batch was shipped to the United States in May. Hu Xing
A local barley beer brewer in the capital of southwestern China's Tibet autonomous region expects to sell more products to the United States in the second half of next year.
According to orders from Dzambuling, the US dealer for Lhasa Beer Co, Ltd will supply 1,000 tons, or 2.78 million bottles, of barley beer to the United States every month beginning next July, said Norbu Tsering, the company's deputy general manager.
The company sold its first batch of beer, totaling 272,160 bottles, under the locally famous brand of Lhasa to the United States in August. This was the first time the Tibetan beer brewer exported its products.
Norbu Tsering said a second batch of more than 216,900 bottles has since been delivered to the American market.
The acceptance of Lhasa beer by the US market means the Tibetan company's products met requirements on quality and production process rules established by the American buyers, said an official with the regional commerce bureau.
The beer is produced from highland barley harvested from the Qinghai-Tibet plateau and malt from Australian wheat, Norbu Tsering said.
Lhasa beer sold to the United States has an alcohol content higher than that sold in China to adapt to US tastes, according to the company.
Despite the ongoing global economic downturn, Norbu Tsering said, his company expects a 30 percent annual growth in output this year to 85,000 tons.
To meet demand from its American dealer, Lhasa Beer Co enlisted its partner, Tibet Heaven and Earth Green Drink Co Ltd.
Lhasa's partner, using the beer company's formula, is ready to begin operations next March with a designed annual production capacity of 200,000 tons of barley beer.
Xinhua
(China Daily 11/09/2009 page8)