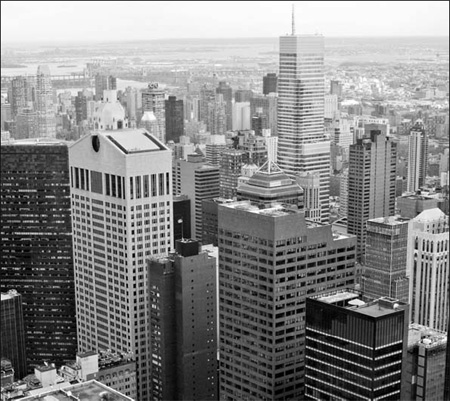 Asian property investors have set their sights on prime real estate in cities including New York. Bloomberg News
SEOUL/LONDON: Asian property investors, including sovereign wealth funds with large war chests, are on a shopping spree for choice office buildings in global capitals, striking while there are bargains to be had.
They have set their sights on property in central business districts or the prime retail streets in London, New York and Sydney, as real estate prices in parts of Asia, including China and Singapore, rebound to close to pre-crisis levels.
"Given recent price corrections in British and US markets, Savills has seen a sharp increase in interest from North East Asian investors, with many seeing this as a historically unique opportunity to get into these markets at attractive prices," said Mark Vink, a senior analyst with the property consultant.
South Korea's National Pension Service (NPS), managing $200 billion in assets, wants to invest up to $3 billion in real estate assets this year in London as well as New York, Tokyo and Sydney, said Rockspring Property Investment Managers LLP, which is working on behalf of the pension fund.
China Investment Corporation (CIC) and Qatar Holding LLC agreed in August to take a stake in Songbird Estates, the majority owner of London's Canary Wharf financial hub.
In June, AIG agreed to sell two downtown Manhattan buildings, including its headquarters, to a consortium led by South Korea's Kumho Investment Bank.
Lancer Square, an 80,000 square foot property with offices and retail space in London's upmarket West End, was bought by a privately funded Malaysian group, Belworth. The property sold for around 40 million pounds ($66.5 million), said Edward Fairweather, a partner at property services firm Knight Frank.
Asian buyers want Grade A office buildings in London's City financial district and the West End, as well as commercial buildings in midtown and downtown Manhattan, industry analysts said.
Sung Heun-do, head of real estate at Woori Investment & Securities in Singapore, said Asian institutional investors tend to expect annual returns of 8-10 percent from overseas property deals, apart from any possible capital gains.
"With property yields in places like Hong Kong and Singapore relatively low, investors have spotted a chance to make double-digit returns and harness good capital growth from UK real estate over the next two years or so," said Shaun Gorvin, an investment director at BNP Paribas Real Estate in London.
Close to bottom?
Prices of office buildings in London and Manhattan were down 14 percent and 18 percent, respectively, in January-June, according to data from Investment Property Databank.
Average capital value in Sydney's commercial building district had fallen 22 percent as of June from a year ago.
Britain attracted $13.7 billion in commercial property investment in January-June, while the United States drew $16.2 billion, said New York-based real estate market research firm Real Capital Analytics.
The UK and US alone accounted for around a quarter of the $116 billion invested in global real estate in the first half.
Banks are also slowly resuming lending to property buyers, albeit at lower loan-to-value levels than about two years ago.
Frank-Rainer Vaessen, president of Singapore-based property investor Pacific Star, said the gearing of real estate deals was now down to 40-50 percent from 60 percent or above before the global credit crisis.
Recovering property yields in some global capitals are also a plus point for investors.
Prime commercial property yields in London narrowed to as low as 4 percent at the market peak, before the boom turned to bust in June 2007, a full percentage point below what 10-year government bonds were yielding at the time.
But with the shortage of stock and more demand, yields have recently moved up to close to 7 percent.
Reuters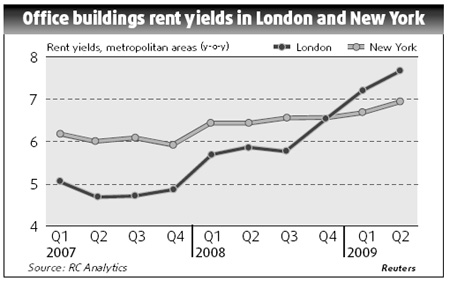 (China Daily 09/21/2009 page11)