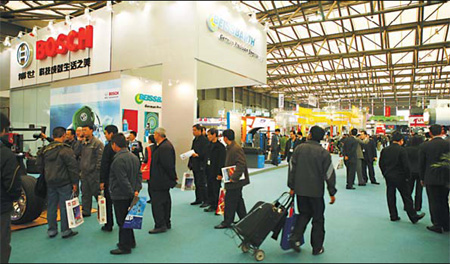 Automechanika Shanghai is the leading trade show in Asia for automotive parts, equipment and service suppliers. Messe Frankfurt
Celebrating its fifth anniversary, Automechanika Shanghai will take place from December 9 - 11 at Shanghai New International Expo Centre.
The exhibition will cover almost 100,000 sq m to accommodate the expected record number of over 2,000 exhibitors.
The show has already attracted more than 1,800 exhibitors from 15 countries and regions - Germany, India, Indonesia, Italy, Japan, South Korea, Malaysia, the Netherlands, Singapore, Turkey, the UK and the US, as well as the Chinese mainland, Hong Kong and Taiwan.
Automechanika Shanghai, Asia's No 1 trade show for automotive parts, equipment and service suppliers, continues to receive strong support from international trade associations as well as local and overseas companies. Seven pavilions from around the globe - Germany, South Korea, Malaysia, Singapore, the UK, the US and Taiwan province - are already confirmed for the show.
Maintenance equipment
Many leading local and international maintenance equipment manufacturers are exhibiting. These include Corghi, Dali Equipment, Ever-Eternal, Jinhua Industrial Group, Launch Tech, Maxima and Snap-on.
US company Snap-on is one of the leading global innovators and manufacturers for diagnostics, equipment, tools, software and service solutions for professional users.
Snap-on sees huge potential in China's after-sales market because China's vehicle sales remain strong and the country is entering into a phase of quality repair and maintenance market. They aim to raise the awareness of the importance of safety and productivity at the show.
Italian company Corghi is one of the leading tire changing equipment manufacturers for automatic tire changers, wheel balancers, wheel aligners, lifting equipment, technical control lines, test equipment and other related equipment. Corghi met many potential customers in the previous shows and is seeking to further consolidate its position in the Chinese market.
Ever-Eternal from China specializes in lifting equipment design and manufacturing. Wang Kui, sales manager of the company, said "Automechanika Shanghai is very important to the industry. I am confident about the quantity and quality of show visitors."
Launch Tech will showcase their latest diagnostic products at this year's show. Shi Huarui, overseas business manager of the company, said, "Automechanika Shanghai is a very influential trade event in China. It attracts many overseas exhibitors and visitors and helps us achieve brand recognition and further market exposure."
To support the maintenance equipment sector, the third Automobile Maintenance Equipment Dealer Convention will be held concurrently with Automechanika Shanghai. Organized by the Shanghai Auto Maintenance Equipment Association and supported by five professional trade associations of China's auto repair industry, this year's convention will include an equipment factory visit and various professional forums presented by prominent industry leaders. The convention will also offer attendees networking opportunities with overseas trade associations. Last year's event attracted nearly 300 Chinese auto repair and maintenance equipment dealers.
Booming auto sales
Analysts of JP Morgan believe China is at the start of another auto sales boom that is being stimulated by rising incomes in third-tier cities such as Xi'an and Chengdu. The repair and maintenance market is also being propelled by an upsurge of car purchase.
According to the China Association of Automobile Manufacturers (CAAM), the auto output and sales in China set a half-year record in the first six months. From January to June, auto sales reached more than 6 million units, up by more than 17 percent year on year, while nearly 6 million vehicles were produced in the period, up by more than 15 percent year on year. The increases are attributed to a series of government stimulus measures to boost domestic demand.
CAAM predicts that China auto sales in the second half may reach more than 11 million vehicles, higher than its April forecast of 10 million units. Sales in the first half year have already made China the world's largest automobile market and CAAM believes that this could be a lasting trend.
Automechanika Shanghai is one of 13 global Automechanika fairs organized by Messe Frankfurt and held in Asia, Europe, North America, South America and Africa.
Messe Frankfurt is Germany's leading trade fair organizer. The Messe Frankfurt Group has a global network of 28 subsidiaries, five branch offices and 52 international sales partners, giving it a presence for its customers in more than 150 countries. In 2008, Messe Frankfurt organized more than 100 trade fairs, of which more than half took place outside Germany.
(China Daily 09/21/2009 page8)