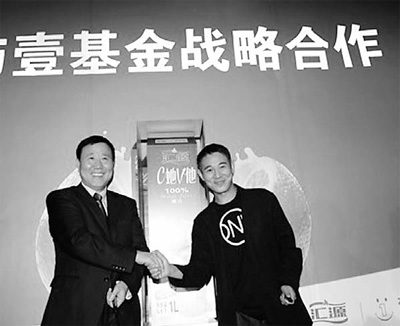 Huiyuan Chairman Zhu Xinli (left) and Jet Li, founder of the One Foundation, shake hands at the signing ceremony of a bilateral charity strategic agreement. The two partners will cooperate to involve more consumers in charitable causes. File Photo
China's top juice maker, Beijing Huiyuan Beverage & Food Group Co Ltd, signed a strategic agreement with the One Foundation, a charity project operating under the Red Cross Society of China, for a long-term philanthropic partnership.
According to the agreement, Huiyuan donated 1 million yuan in one lump sum to the One Foundation.
Since the agreement became effective this month, Huiyuan also will donate 1 yuan to the charity fund for every bottle of its CsheVhe juice purchased by consumers.
All donations are earmarked for children's and educational programs carried out by the non-government organization.
"The 'one bottle of juice plus one consumer plus one yuan' campaign coincides with our foundation's principle of 'one person plus one month plus one yuan equals to one big family'," said Jet Li, the famous actor who is founder and chairman of the One Foundation.
Huiyuan officials said the project creates a convenient platform to invite more consumers to participate in charitable causes.
"Big corporations should shoulder more social responsibilities. It (the strategic agreement) demonstrates our efforts to not only devote ourselves to social causes, but also inspire our consumers to participate," Huiyuan Chairman Zhu Xinli said.
After acquiring a small cannery in 1992, Huiyuan Group has grown into the largest 100 percent fruit juice producer in China today.
The beverage and food giant has since donated 300 million yuan in cash and in-kind services to charitable causes.
The company has supported poverty relief, education and youth development efforts, as well as sports and cultural causes.
In addition, the Hong Kong-lisetd company has been keeping its commitment to "bringing nutrition to consumers while benefiting rural areas and farmers".
Huiyuan has established more than 267,000 hectares of fruit production bases, created a huge fruit industry management system and promoted the development of the agricultural sector.
Within the past 17 years, the Beijing-based giant has purchased and processed more than 7 million tons of fruits, vegetables, milk, tea, grains and other agricultural products.
Through the purchase of concentrated fruit and vegetable juices, and fruit and vegetable puree, Huiyuan has used millions of tons of fruit and vegetables, creating a sales channel for millions of farmers to increase their income.
The One Foundation has established cooperation with a group of enterprises. In addition to Huiyuan, the partners include China Merchants Bank, Alibaba, Hengan, Microsoft, Versace, Tetra Pak, San Migual Corp and Tomson Group.
(China Daily 09/07/2009 page8)