The world's largest carbon capture project launched by a coal-fired power plant broke ground in July in Shanghai.
After completion, which is scheduled before the end of this year, the project will capture as many as 100,000 tons of carbon dioxide annually.
The carbon capture project has been identified as a significant element in China's effort to reduce its greenhouse gas emissions.
Carbon capture technology, according to experts, will serve two purposes. One is to absorb excess greenhouse gas, and the other is to make it useful in related sectors.
Shanghai Shidongkou Second Power Plant, a subsidiary of Huaneng Power International Inc, is the second carbon capture program developed by its parent company.
The first project is in Beijing. The second project, located on the outskirts of Shanghai, is expected to cost about 150 million yuan.
Carbon capture technology is a response to worsening global warming that results mostly from fossil fuel emissions.
The goal is to capture carbon dioxide from large-point sources such as fossil fuel power plants or biomass energy facilities, industries with major carbon dioxide emissions, and from natural gas processing, synthetic fuel plants and fossil fuel-based hydrogen production plants.
A new urgency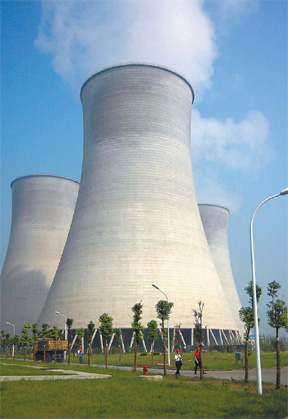 A Huaneng power plant is in operation in Huai'an, Jiangsu province. China Huangneng Power International Inc is actively promoting carbon capture technology, with the second such project launched recently in Shanghai. CFP
Long Weiding, executive deputy director of the New Energy Research Center of Tongjie University, told China Business Weekly that the urgency of climate change demands every nation to speed up carbon capture and storage (CCS) research.
"Currently, almost all the countries are at the very beginning stage of CCS research and development. But it will be a major trend and an effective way to deal with greenhouse gas emissions," Long said.
By 2010, at least 20 coal-fired power plants will apply carbon capture techniques, and carbon capture technology is expected to go global by 2025.
An Intergovernmental Panel on Climate Change (IPCC) survey showed that 930 billion tons of carbon dioxide -- equivalent to 45 percent of the world's total emissions in 2050 -- can be captured and stored.
Carbon capture technology can reduce greenhouse gas emissions by 20 percent to 40 percent, according to the survey.
China relies heavily on coal-fired power plants for its energy.
China's three biggest power companies -- Huaneng, Datang and Guodian -- emitted more greenhouse gases than the whole of the United Kingdom last year, according to a Greenpeace report published in late July.
China's top 10 power companies, which provided almost 60 percent of China's total electricity last year, burned 20 percent of China's coal, or 590 million tons, and emitted the equivalent of 1.44 billion tons of carbon dioxide.
Gaobeidian project
Huaneng's first carbon capture project, the Huaneng Gaobeidian project in Beijing, started operations before the Beijing Olympics in 2008, and is now capturing 3,000 tons of carbon dioxide every year.
Xu Shiseng, head of Huaneng Power's Shidongkou project, said that the local market can easily absorb the carbon dioxide captured at the Beijing project. The capital city currently has a demand for 60,000 tons annually, Xu said.
The Shidongkou project in Shanghai will follow the Gaobeidian model, which plans to sell the captured carbon dioxide for industrial utilizations.
"To start such a program will raise the power plant's costs between 20 percent and 30 percent and lower power production capacity by 8 percent to 10 percent. This is the cost of reducing greenhouse gas emission," Xu said.
Gao Shiwang, a researcher with Xi'an Thermal Power Research Institute Co Ltd, said that captured carbon dioxide is mainly used in oil exploitation, food processing and machinery washing and welding.
"Among them, the captured carbon dioxide now is mostly used for food processing," Gao said.
The solid gas or dry ice can be used for cold storage of seafood, for example. Additionally, carbon dioxide is also widely used in soda drinks and beers, he added.
"But compared with oil exploitation, food processing's annual demand for less than 1 million tons across the nation is too small," said Gao.
Oil industry use of the captured carbon dioxide can easily reach several million tons annually, he said.
Gao said the major oil fields of Shengli Oil Field in Shandong province, Liaohe Oil Field of Liaoning province and Daqing Oil Field of Heilongjiang province are all ideal places to use captured carbon dioxide.
"By doing so, they can greatly enhance the oil output," Gao said.
Zhang Maolin, deputy director of the School of Economics and Management at Tongji University, said the Shidongkou program, even with an annual carbon capture target of 100,000 tons, still is at the experimental stage.
"The Shidongkou program focuses on carbon capture, but this is not enough for a CCS project, as a more challenging question is how to store and utilize the captured carbon dioxide," Zhang said.
High costs
Jiang Minhua, a senior official at Huaneng, said the higher cost of carbon capture projects has slowed development of the Shidongkou project.
Jiang said the cost of carbon capture is as much as 200 yuan per ton, and that there will be another 150 yuan in extra costs per ton if the gas is put into commercial use.
China's limited capability in carbon dioxide applications also has slowed development, he said.
Zhang of Tongji University added that there's no guarantee that captured carbon dioxide storage facilities are 100 percent safe, especially after the gas has been stored for 20 to 30 years.
"By investing in a smaller carbon capture project in Beijing at first, our researchers can garner plenty of experience in this area through discovering and solving problems that arise," Gao of Zi'an Thermal Power Research said.
(China Daily 08/31/2009 page3)