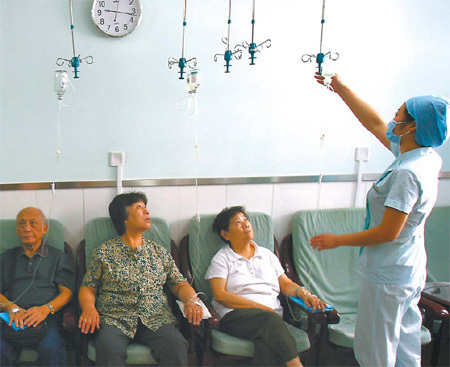 A nurse provides fluid infusion services for elderly patients at Donghu Community Hospital, located in the Chaoyang district of Beijing and affiliated with the China-Japan Friendship Hospital. China recently announced an 850-billion-yuan medical reform program, which gives priority to the development of community medical care services. Zhang Wei
Editor's note: Over the past two decades, the disposable income for rural and urban residents in China has grown by less than 20 times, while their medical expenditures are 133 times higher. The high cost of medicine has become a critical issue in China.
The latest health care reforms were administered under the principle of "enabling everyone to enjoy medical insurance".
The Implementation Plan for the Recent Priorities of the Health Care System Reform (2009-2011) seeks to invest 850 billion yuan over three years to address the problems of "difficult and costly access to health care services".
However, a survey by Ipsos, an international market research firm, showed that the majority of Chinese consumers polled have an unclear understanding about the new healthcare reform program and an apparent lack of trust about some community health services.
The survey also showed that consumers show strong brand loyalty to medications.
The online poll was conducted in June and surveyed 614 netizens between the ages of 18 and 55 in six cities: Beijing, Shanghai, Guangzhou, Chengdu, Wuhan and Shenyang.
Here are excerpts of the survey's findings:
Community centers
Despite active promotion by government agencies, most Chinese consumers lack detailed knowledge about recent healthcare reforms.
Although 96.1 percent of the consumers surveyed said they understood the importance of the new healthcare reform policy, many were unfamiliar with the details of that policy.
For example, many consumers were unfamiliar with the "six-in-one" service function of community health centers.
The "six-in-one" service function describes the six kinds of services provided by community health centers, including community medical services, community healthcare services, health education and publicity, infectious disease prevention and rehabilitation management for chronic diseases.
However, consumers demonstrated a higher level of awareness of the functions of some of those services.
For example, the awareness rate for community medical services was as high as 85.5 percent, and the awareness rate for community healthcare and health education and publicity were 71.2 percent and 55.4 percent, respectively.
However, more than 70 percent of consumers surveyed were unaware of the institutions' chronic disease management services, and few had actually used these services.
Only 22.85 percent of consumers said they only turn to community health institutions for checkups and/or treatment of chronic diseases.
Only 28.7 percent said they visit the institutions when they need prescriptions to treat chronic diseases.
According to the consumers surveyed, many believe the main functions of community health service institutions are to treat minor illnesses and provide fluid infusion services.
In the Ipsos survey, 58.8 percent of consumers said they always obtain fluid infusions at community health centers, and 34 percent turn to community health institutions when they have minor illnesses.
In addition to low awareness, consumers have little confidence in the technology at community health centers.
Most said the reason they choose large hospitals over community healthcare centers is because of the available medical equipment and professional level of doctors, according to Angie Li, a research director at Ipsos China.
Several months after the issuance of the reform policies, there is no obvious improvement in consumers' enthusiasm about visiting community health centers.
Only 14.3 percent of respondents said they have visited community health centers more frequently than before the announcement of the reform policies.
Drugstores
The survey also showed that 43 percent of consumers chose to buy their medicine at drugstores for self -treatment.
"Convenience, more complete drug stocking and ease of purchasing without waiting in long lines at large hospitals are the main reasons for this trend," Li of Ipsos China said.
The use of health insurance cards is another key reason, she added.
The frequency with which respondents use their health insurance cards in drug stores is once every two to three months.
This figure is higher than their usage in large hospitals and community health facilities, which is once every three to four months.
Drugstore patrons also buy some over-the-counter, or OTC, drugs to store at home. Nearly 90 percent of consumers surveyed said they buy and store medicines for common colds, and 29.2 percent said they purchased antibiotics at drugstores.
Other frequently bought medicines are for skin use, for the digestive system and for eye and dental disorders.
Consumers are sensitive to drug brands when purchasing medications, especially in Shanghai, the survey showed.
More than 70 percent of Shanghai respondents said they always have the brand of drug in mind before they enter the drugstore.
The brands consumers consider, according to the survey, are recommended by doctors, have beneficial effects or are brands they feel they can trust.
However, more than 60 percent of consumers said they have had difficulties choosing the right drug from many varieties.
Consumers will decide themselves which drug to buy, although they said they will rely on drugstore workers for recommendations.
Drugstore workers are not professional doctors and can make mistakes, the consumers admitted.
The survey findings also pointed to a suspicion that pharmaceutical companies might influence the recommendations of drugstore employees.
More than 78 percent of consumers said they would like to obtain signatures from pharmacists who offer advice.
Some 67.6 percent of consumers cited the possible influence of pharmaceutical companies as the reason for their desire for a signature.
Drugstores have evolved from single retailers and chain stores to their location in supermarkets and the newer development of multi-service drugstores. In addition to medicines, the multi-service drugstores offer general health care products, cosmetics and daily necessities.
According to the survey, 57.7 percent of consumers would buy general health products in addition to medicines at drugstores. Of those surveyed, 32.6 percent said they would buy daily necessities at the multi-service drugstores, and 30 percent would purchase cosmetics, too.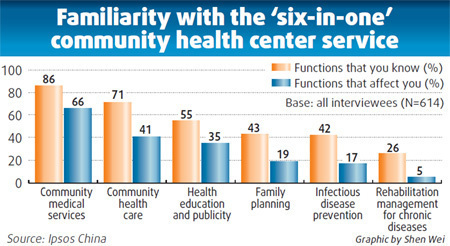 (China Daily 08/24/2009 page12)