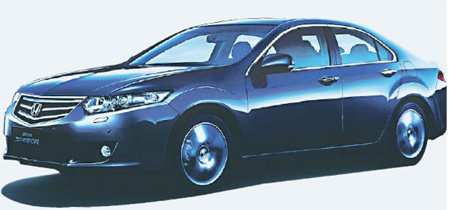 The new model from Dongfeng Honda is powered by a state-of-the-art i-VTEC, four-cylinder engine.
Joint venture carmarker Dongfeng Honda Automobile Co plans to launch an all-new mid-sized sedan in September to carve out a niche in China's emerging premium sporty car segment.
Based on the TSX sedan from Honda's luxury brand Acura, the model will carry the Honda logo and be named Spirior - a combination of "spirit and superior".
The Spirior has an aerodynamic exterior design and abundant power. Its 2.4-liter, i-VTEC, four-cylinder engine produces 133Kw/6,500rpm and 225Nm/4,300rpm of torque linked to a five-speed sequential sport shift gearbox.
Seiji Kuraishi, president of Dongfeng Honda - the joint venture between Dongfeng Motor Corp and Honda Motor Co - based in the central city of Wuhan, said the Spirior will enable the company to enter the premium sporty segment, which is now small and immature but has considerable potential.
"We aim to grab the bulk of the small segment with the Spirior," Kuraishi told a reporter recently when Dongfeng Honda unveiled the model in Shanghai.
Differentiated car
He said many Chinese motorists are now demanding "differentiated cars" rather than simply buying a vehicle to fill the need for transportation. After years of rapid market growth and maturing consumers, first-time car owners are replacing their vehicles and have more discerning tastes.
The joint venture will reveal the Spirior's price tag in September when the model goes on sale. It plans to sell 15,000 this year.
Analysts said the Spirior will be a little more expensive than its sibling Honda Accord, which is being built at the Japanese carmaker's other joint venture in China, Guangzhou Automobile (Group) Corp, known as Guangqi Honda. The Accord's 2.4-liter version retails between 219,800 and 264,800 yuan.
Dongfeng Honda also expects the Spirior will be able to compete with the BMW 3 Series and Audi A4.
Kuraishi said the Spirior will also help Dongfeng Honda, a relatively small venture, promote its corporate brand as it improves its sales and service network.
Established in 2003, the company now has an annual production capacity of 200,000 vehicles and offers only two models - the Civic compact sedan and CR-V SUV.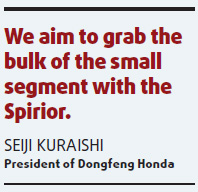 In the first half of this year, Dongfeng Honda's sales climbed by 7.16 percent year-on-year to 90,359 units, including 48,592 CR-Vs and 41,767 Civics.
At the same time Volkswagen's two joint ventures in China sold more than 300,000 vehicles while sales by Shanghai General Motors hit nearly 290,000.
Kuraishi said Dongfeng Honda aims to move a total of 195,000 vehicles this year, up from 164,000 in 2008.
The joint venture now has 247 authorized dealers across China and plans to increase the number to 260 by the end of the year.
The Spirior is 4,730 mm long, 1,840 mm wide and 1,450 mm high with a 2,705-mm wheelbase. With a top speed of 212 km an hour, the model accelerates from zero to 100 in 10.8 seconds. It meets the National IV emission standard.
China priority
Kuraishi said Honda now views its main strategic challenge as China, which this year vaulted over the troubled US vehicle market to become the world's largest.
He said Honda's China sales will exceed 520,000 vehicles this year, up from 470,000 in 2008.
The Japanese carmaker expects production capacity from each of its two ventures in China to reach 1 million vehicles a year "in the near future", he said.
Guangqi Honda, which also makes the subcompact Fit, compact City and Odyssey MPV in the southern city of Guangzhou, now has an annual manufacturing capacity of 360,000 vehicles.
Zhou Wenjie, vice-president of Dongfeng Motor Corp and chairman of Dongfeng Honda, said he hopes annual production capacity of Dongfeng Honda will reach the 1 million mark "as soon as possible" as China's vehicle market continues to grow and mature.
"The possibility cannot be excluded that Dongfeng Honda will create a non-Honda brand (like what Guangqi Honda has done)," Zhou told China Daily.
Guangqi Honda last year created the Linian brand, whose intellectual property is held by the joint venture rather than by one of its parent companies. The first vehicle bearing the Linian badge will be launched next year.
Sales by the Guangqi joint venture grew 14.8 percent in the first half of 2009 to 163,400 units. It plans to sell 330,000 vehicles this year.
Overall vehicle sales in China jumped 17.7 percent year-on-year to almost 6.1 million units in the first six months. Over the same period US sales plunged 35 percent to 4.8 million vehicles.
Sales in China are projected to reach 12 million vehicles this year, up from 9.4 million in 2008.
(China Daily 08/10/2009 page6)