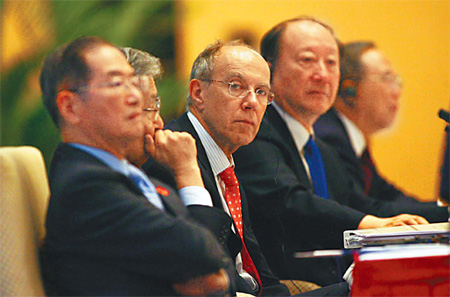 Leaders of the world's energy and environmental sectors meet in Beijing in early July for the China Global Think-Tank Summit. Zhang Wei
Leaders of the world's energy and environmental sectors gathered in Beijing early this month to brainstorm on how to develop a cleaner, sustainable energy supply for the world's second-largest energy consumer, as well as the rest of the world.
Their agenda were not always the same at the energy and environment track of the China Global Think Tank Summit.
For example, during discussions on alternative energy technologies, representatives from Saudi Arabia warned that participants should not overlook the continuing value of traditional energy resources such as oil.
Despite such differences, consensus was reached on the need to reach some level of international cooperation to address an energy crisis that now is global.
What the world witnessed last year with a spike in summer energy prices was a lack of investment in energy-producing countries, said Gerard Lyons, chief economist and head of the global research division of London-based Standard Chartered Bank.
Over the past few years, China increased outward investments in energy-producing countries, boosting the energy production capacity of the entire country.
"This is a good thing," Zhang Guobao, head of the National Energy Administration, said in the opening speech at the meeting.
"Chinese energy companies launched several successful cooperation projects with resources-rich countries in the exploration and operation of energy sources, either through joint ventures or acquisition or outsourcing or technological support. Now we are offering these countries bank loans, and that's a new way of cooperation," Zhang said.
In addition to bank loans, these countries also benefited from the creation of jobs, he said.
By the end of April, China invested close to $46 billion in foreign natural resources, including hydrocarbons.
Total foreign investments made by Chinese oil companies -- including those by the world's second-biggest oil company, PetroChina, and Asia's largest refiner, Sinopec -- are expected to rise to 280 billion yuan in 2015, up from 190 billion yuan last year, according to the central government's report on China's energy needs.
China's improved investment system has also created favorable conditions for its home capital to go global, said Zhang Monan, an economic researcher with the State Information Center.
The country has implemented numerous policies and pro-active measures to boost its foreign direct investments.
Earlier this year, the Ministry of Commerce published a regulation on outbound investment management, encouraging investments and acquisitions by domestic enterprises.
The State Administration of Foreign Exchange is expected to issue a draft regulation for improving exchange management of outbound investments by domestic bodies that would simplify registration procedures.
The Ministry of Commerce is now drafting regulations on the management of foreign labor cooperation and also foreign investment cooperation.
"China faces an ever-improving external environment for its outward capital expansion. A series of purchase, investment and acquisition moves by China's enterprises have demonstrated to many countries that a rapidly flourishing China will help pull other economies out of the crisis," Zhang Monan said.
However, many tend to interpret the message of this intended win-win solution as China's ambitious energy acquisition strategy to secure its energy sources.
"So far, many foreign companies were unwilling to be acquired by Chinese companies, but at the same time, they wanted China's money," Fu Chengyu, chairman of China National Offshore Oil Corporation (CNOOC), said in June.
CNOOC initiated an $18.5 billion bid for an American oil company, Unocal, in 2005 and failed. The biggest offshore oil producer in China is now preparing a bid to buy a minority stake in the Argentinean unit of Repsol YPF SA.
"We have to get the message out that China wants a win-win solution, not to kick someone while they're down," Fu said.
China's oil companies have made many landmark overseas acquisitions in recent months.
Asia's largest refiner, Sinopec, agreed to acquire Canada's Addax Petroleum for C$7.2 billion in a deal announced last week, just days after PetroChina bought a 45.51 percent stake in Singapore Petroleum.
Clean energy
In addition to cooperation among countries in investments in energy-producing countries, the Think Tank meeting also addressed the need to cooperate on clean energy technologies.
Zhang Guobao of the National Energy Administration said China must decide which of those technologies has the most promising future to avoid wasting time and resources.
In the opening address of the summit meeting, Zhang Guobao expressed doubts about technologies to make hydrogen a staple of energy supplies, and also about efforts to trap carbon dioxide using carbon capture and storage (CCS) technologies.
Too much energy is required to produce hydrogen for the sake of developing a viable hydrogen energy source, he said.
"We should not be over-optimistic about the future of a hydrogen economy," Zhang said.
Zhang said he believes CCS technologies are too expensive for the limited amount of greenhouse gases that would be captured and stored.
"It (CCS) does not work as well as planting more trees or reducing desertification for carbon sequestration," he said.
(China Daily 07/13/2009 page3)