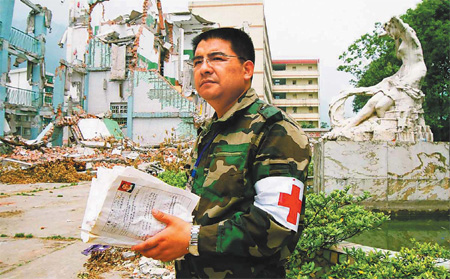 Chen Guangbiao, chairman of Jiangsu Huangpu Renewable Resources Utilization Co Ltd,led a disaster relief team to Sichuan immediately after the quake. File photo
At an old house renovation site in Nanjing, capital of Jiangsu province, a short and strong man stood in the pelting rain with no protection, with a twinkle in his eyes and a smile on his face, watching a crawler fork-lift truck load a huge machine with the rubble from the demolished building.
The machine on its part was churning out 1 cu m sized blocks from its three conveyor belts. The blocks, made of a mixture of clay, lime and sand, reinforcing steel bars, and concrete, were soon ready for use in construction of buildings or roads. In just a few minutes, around 100 sq m of rubble was cleared up and three huge piles of blocks were formed.
"I am turning the rubble stack to a gold mine. I am proud of my business, which can change waste to useful materials and help in recycling," said Chen Guangbiao, chairman of Jiangsu Huangpu Renewable Resources Utilization Co Ltd, engaged in demolition of old houses, construction of garbage and discarded facilities treatment, and recycling.
Chen told China Business Weekly that his company was helping to clear the dismantled old plants, which covered over 100,000 sq m and generated over 200,000 tons of construction waste.
Traditionally, the residue is often moved to rural areas for use as landfill, in standard 10-ton capacity trucks. Moving the waste would involve 20,000 trips and cost at least 4 million yuan along with the risks of leakage and spilling.
"More important is that the landfill will occupy arable land and often the building debris cannot degrade in a short period of time. Some useful material in it also cannot be reused," said Chen.
By using Jiangsu Huangpu's technology and machines the construction waste can often be converted into useful materials, thereby earning good money for the private entrepreneur.
The ordinary mix of clay, lime and sand is sold at 60 to 70 yuan per cu m in the market, while the unit price is only 15 yuan for Jiangsu Huangpu. The recycled reinforcing steel bars and concrete are also much cheaper.
"For the 100,000-sq m site, cleaning work can be finished within two months and all recycled building materials would be removed when the project begins," said Chen.
Besides earning debris settlement fees from the demolishers and money from purchasers who buy recycled materials, the recycler can also get a subsidy of 10 yuan per sq m from the property developers, who will use the clean land.
Chen declined to reveal the profit margin, highlighting that he is not only doing a promising business but also shouldering the social responsibility to protect the environment.
According to Cheng Zhongfan, professor, School of Civil Engineering under the Southeast University, the strength of recycled building materials is nearly the same as new ones, while the prices are usually 15 percent lower. "Construction waste in China amounts to nearly 2 billion tons every year and this creates huge opportunities for recyclers. Moreover, the sector is promising, given the governmental policies for environmental protection," he said.
Jiangsu Huangpu, so far, has 300 sets of such construction waste recycling machines and employs around 3,700 engineers, technicians and workers. Chen was ranked by the Hurun Rich List, which is considered the bible of wealth and de-facto Who's Who of Chinese business, as the 406th wealthiest businessman in China with a personal fortune of 2 billion yuan in 2008.
Born in a poor family in Jiangsu in 1968, Chen spent his childhood without enough food and clothes, while a sister and a brother died of hunger when he was only two.
He decided to make his life different when he was very young and started his first business - that of selling water - at the age of 10. During summer holidays, he fetched water from a well in his village and sold it in the town 2 km away at one fen (the minimum currency unit in China). His earnings of over 4 yuan not only covered his tuition fees of 1.8 yuan, but also that of his neighbor as well.
When he was 17, his family became the first 10,000-yuan household in the village. Chen had during the holidays in the past five years collected surplus grain from villagers and sold it to urban people. From 5 to 6 yuan profit per day to over 300 yuan, from riding a bicycle commuting to driving a tractor, the boy expanded his business until he was enrolled by the Nanjing Traditional Chinese Medicine College for higher education in 1985.
After his graduation in 1990 he decided to take advantage of his medical knowledge to earn money. He renovated diagnostic equipment that could detect diseases via ear acupoints, and promoted it in the market with an initial investment of 3,000 yuan. The business soon expanded into a company with annual profits in excess of 200,000 yuan in 1998.
In 1998, he scented another business opportunity in processing Lucid Ganoderma, a traditional Chinese tonic. He made the raw lucid ganoderma into a capsule, to cash in on the growing demand for convenience, and soon saw prices of the popular health nourishing medicine jump from 200 yuan per kg to nearly 2,000 yuan. The new business saw Chen's profit zoom to 600,000 yuan the next year.
But the savvy entrepreneur was not content with temporary success and decided to find and operate a long-term and sustainable business.
It was in 2000 that the Nanjing municipal government decided to dismantle its old exhibition hall. Chen was lucky to bag the building waste treatment project. Classifying the rubbish, Chen sold it to different buyers for 4 million yuan and after deducting labor costs, made a net profit of 1.8 million yuan.
Discovering the treasure hidden in garbage, Chen decided to shift focus to the recycling sector. He imported advanced machines from Germany in 2003 for waste classification and recycling after a careful market study and analysis. "We decided to start from a high level so that no one could compete with us in China," he said. That strategy really worked and helped him get an upper hand in the industry.
The building material the company recycled between 2003 and 2008 can pave a 274 km expressway between Nanjing and Shanghai, while the metals it has collected from waste amounts to hundreds and thousands of tons.
Jiangsu Huangpu, however, is not immune to the global economic slowdown, as purchase prices of various metals have nosedived. "I lost 2 billion yuan at the end of last year," said Chen.
Ploughing back part of his profits into charity, the green nature of the recycling business and his philanthropy has helped him stand tall. So much so that many companies came to him with projects, while purchasers were willing to reduce their margins to buy Chen's goods.
Chen said he is optimistic, not only due to the people's support, but also because of the favored policies of the government. The 4-trillion-yuan stimulus package is expected to cover infrastructure construction, residential community renovation and public venue upgrading projects, all of which offer immense opportunities for Jiangsu Huangpu.
The private entrepreneur also indicated that he has no plans to list Jiangsu Huangpu, as it would threaten his complete control and hinder the generous donations to people and society.
"I want my company in a sustainable cycle of healthy development and socially beneficial charity," he said.
(China Daily 07/06/2009 page12)