Dell Inc, the world's second-largest PC maker, plans to devote more resources to the small- and medium-sized business (SMB) market in China, a senior company executive said.
The US PC maker, which watched shipments grow 28 percent in China last year, is planning new measures to grow market share in China's SMB market, said Steve Felice, president of Dell's global small and medium business operations.
Those measures will include more advertising and product offerings, he said.
"We think SMB will be the first segment to climb out of the recession and rebound once the economy picks up again," Felice said.
PC shipments in China are expected to grow at a historic low of 3 percent this year due to the economic downturn, according to the US research firm IDC.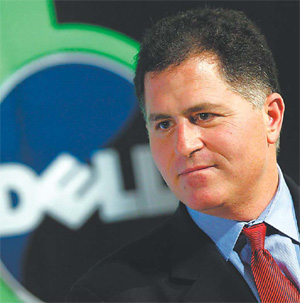 Michael Dell, founder, chairman and CEO of Dell Inc, speaks at a news conference in Beijing on March 26. Dell, the world's second-largest maker of personal computers, will market PCs to China's rural communities, seeking to boost sales to a potential customer base of 800 million people. Bloomberg News
However, the market is expected to rebound in 2010 when the growth rate will surge to 16 percent, IDC projected.
Felice said that the Chinese government's economic stimulus measures to encourage purchases of electronic consumer products likely would help stabilize product growth rates more quickly than other countries.
The former head of Dell's Asia-Pacific operations said earlier that he had seen some positive movement in Dell sales in health care and education industries as a result of the stimulus package.
"We have seen some benefit," Felice said.
More than 15 Dell products have been included in the Chinese government's subsidy program to encourage information technology product sales in rural areas, the company said earlier.
Dell, Felice said, now is revamping its SMB product lines and later this year will introduce more new offerings.
"The preference for us is that China will always be one of the places where we introduce our latest products," he said.
Dell will increase ad spending and mount a marketing campaign this year to target SMB customers, he said.
Felice said the marketing campaign will focus on "how Dell can help a small enterprise grow into a large one, just like Dell did itself."
A television commercial reflecting that message will air first in India, then the United States and then debut in China later this year, he said.
The SMB sector accounts for more than 25 percent of Dell's business in China, which is the second-largest market for the PC maker.
China last year contributed about 5 percent of Dell's global revenues.
"China is a strategically important market for us. That's why at Dell we have an executive steering committee for it," Felice said.
The steering committee, he said, is composed of heads of all of Dell's major business divisions and meets regularly to discuss its business strategies in China.
Felice said Dell will ramp up its channel expansion in China to reach more SMB customers in the third, fourth or even fifth-tier markets - a move that analysts say will put it into closer competition with Chinese PC maker Levono and Hewlett-Packard, the world's biggest PC maker.
"Our expansion in this regard is pretty fast, and the number of such sales channels has already exceeded 8,000," Felice said.
Dell's commercial sales channel partners also number in the thousands, Felice said, although he did not disclose specific figures.
"We will continue to expand our channel networks," the senior executive said.
Such efforts already have paid off, he said, with shipments in China growing at a "very robust" rate in the first quarter.
But Felice did not provide the sales figures for China.
For Asia, Dell's first-quarter revenue fell 20 percent from a year earlier, according to its first-quarter earnings results.
Excluding Japan, Dell was ranked third in Asia behind Lenovo and HP, but ahead of Acer and Founder in the first quarter, according to IDC.
(China Daily 07/06/2009 page6)