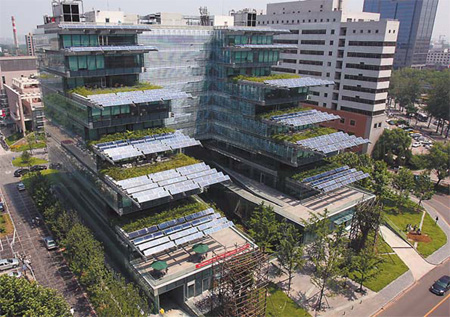 The pilot project energy-efficient building on the campus of Tsinghua University. It is not only a demonstration project but also an example of how good architecture, internal comfort and energy saving can coexist. Zhang Wei
Italy and China designed the Sino-Italian Tsinghua Ecological and Energy Efficient Building (SIEEB) at Tsinghua University as a case study for future buildings, yet it remains an ideal, as its energy-efficient technologies have not reached their full potential.
Finished in 2006, the project was backed by China's Ministry of Science and Technology and the Italian Ministry for Environment and Land to create an environmentally efficient university building that could be replicated elsewhere.
"What we are doing is testing solutions in order to have, at the end, low-cost options because what we want to do is disseminate the solutions," said Corrado Clini, director-general of the Italian Ministry for the Environment and Land and Sea. "This is not a monument but a test case for dissemination."
Favero & Milan, the SIEEB management company, said the main goal of the project is to reduce carbon dioxide emissions, so the building is not connected to the national power grid, which uses mostly coal to generate electricity.
With 10 stories above ground and two below, SIEEB has walls made from a double-pane glass that keeps heat in, while using reflection to regulate the amount of light entering the building.
The building has an intelligent control system with light intensity sensors that maximize the use of natural light and infrared sensors to recognize when people enter and leave a room. A ventilation system in the floor releases treated air when sensors detect the level of carbon dioxide in a room has become too high.
To maximize exposure to sunlight on its south side, SIEEB is shaped like a "C" with gardens in the center to help to absorb carbon dioxide. With no air conditioning system, heat is transferred using chemical lithium bromide to generate cool air by running chilled water along pipes in the ceiling, which also carry hot water to heat the building in winter.
"SIEEB was built with the intention of realizing not only a demonstration project but also a concrete example of how good architecture, internal comfort and energy saving can coexist," said a representative from Favero & Milan. "This building paves the way for a new generation of office building."
The Tsinghua University facility is a tangible model of what is possible through collaboration between two countries to build new technologies, said Clini, who hopes the collaboration will continue to produce new technologies that will improve many different economic sectors.
"This is a good demonstration of a green building," said Xin Jia, a PhD student from Tsinghua University. "Others take for granted that it is an environmentally friendly building. You must care for it and know how to use it."
Favero & Milan said SIEEB's performance enables a 58 percent reduction in carbon dioxide emissions compared to conventional buildings and has the potential for an 80 percent reduction if the building is able to produce excess energy sold back to the national grid.
At its full potential, SIEEB could reach these performance levels by operating on 95 percent natural gas and 5 percent solar energy. But in practice the building is still not fully operating its environmental features because some elements, such as solar panels, are too costly for building management.
It is necessary to have the combination of management and technology before a project can reach its utmost capability, said Clini. He believes that both must be developed and invested in simultaneously in order to work cohesively.
"It must be said that maintenance costs of some more sophisticated equipment are normally higher because technologies used need more accurate maintenance," said a Favero & Milano spokesperson. "What is affecting the actual use of some technologies in the building is related more to the training and experience of the maintenance staff rather than the operating costs."
Even though the costs of the building were taken into consideration during the design stage, Favero & Milano maintains that the principle focus and objective was reducing carbon dioxide emissions.
"We have two problems: The first is the price itself, and the second is trade barriers," Clini said. "All the technologies that we have in this building basically are Italian. But we agreed with the Chinese authorities to eliminate all the barriers for importation, and we convinced the Italian companies supplying the technologies to reduce the price."
Due to the high level of donation from Italian and Chinese corporations, some critics say these types of buildings may not be easily replicated without extensive additional funding.
As well, current obstacles blocking the building's maximum energy potential show the Sino-Italian collaboration needs to further develop energy efficient technologies in order to successfully implement them into future projects.
The challenge, says Clini, is getting technological solutions ready for the next 25 or 30 years now despite today's environmental and legal frameworks. Current projects, such as SIEEB, he said, are the examples needed to move these technologies into future use.
"For the whole world, energy is a problem," said Xin. "I know it is expensive to have a building like this, but in the near future, I think it will be cheaper and more widespread."
(China Daily 06/29/2009 page3)