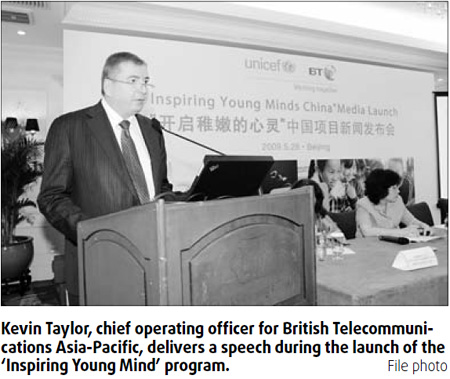 British Telecommunications (BT) recently launched a joint initiative with the United Nations Children's Fund (UNICEF) to bring modern technology to schools in poor rural areas of China to improve access to education.
BT is investing 500,000 pounds to benefit up to 6,000 students and 1,700 teachers across Qinghai, Yunnan and Jiangxi provinces and Ningxia Hui autonomous region, where there are high levels of digital exclusion.
Computers, Internet access, multimedia projectors and other educational materials will be provided in up to 40 rural schools that are under-resourced and have severely limited access to modern teaching aids and equipment.
The initiative represents the third phase of BT and UNICEF's "Inspiring Young Minds" program, a 1.5-million-pound global development partnership designed to bring education, technology and communication skills to children from disadvantaged backgrounds in South Africa, Brazil and China.
The project was jointly designed by UNICEF and the National Center for Educational Technology of China's Ministry of Education, and it is envisaged that it can be extended to other schools in the future.
Activities supported by BT will include establishing an online learning community to enable teachers to explore information from the Internet, to learn from each other and share teaching resources. Training in computer skills and how to develop innovative teaching methods using information technology will be provided to 40 percent of teachers in project schools.
"Communications skills and technology can give individuals and communities everywhere the opportunity to improve lives and take part in the global economy," said Kevin Taylor, chief operating officer of BT Asia-Pacific.
"At BT we are committed to developing solutions that benefit society while supporting long-term growth. China is a key location for BT and we are delighted to be working with UNICEF in western China, as well as in Brazil and South Africa, to help disadvantaged communities reap the benefits of technology innovation."
Access to technology and quality teaching resources is limited in many rural schools in China. While gains are being made in access to education, the quality of learning and teaching lags in remote rural schools, according to Yinyin Nwe, UNICEF representative in China.
"With BT's support, the program will help to raise the overall quality of education in rural schools, giving more children a better start in life," Nwe added.
(China Daily 06/08/2009 page8)