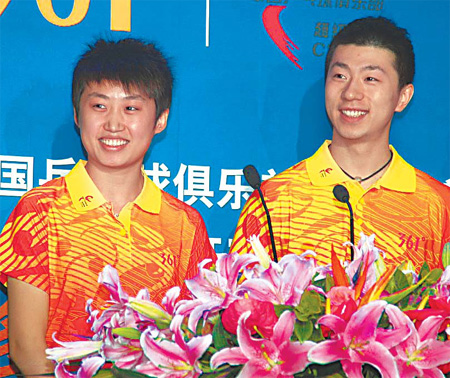 Chinese table tennis stars Guo Yue (left) and Ma Long win the Best Player Awards of the 2008 China Table Tennis Super League, which was sponsored by 361° (China) Co Ltd. File photo
Domestic sports apparel and equipment provider 361° (China) Co Ltd has launched its sponsorship of the China Table Tennis Super League.
The Jinjiang, Fujian-based company is the exclusive sportswear sponsor of the national contest, which kicked off recently and will run until Aug 23. The sponsorship is under cooperation with China Central Television Sports and Entertainment Co Ltd and the Chinese Table Tennis Association.
The three partners will also carry out other activities, including table tennis market research, league promotion, exploration and cultivation of potential talents, and professional table tennis education, in the coming three years.
"We are to leverage our strength in terms of products and expertise to help the China table tennis sector to a higher level and promote table tennis culture as well as inspire more people to take part in the healthy, friendly and easy-to-participate-in sport," said Ding Wuhao, president of 361° (China) Co Ltd, who did not reveal the exact amount of the sponsorship.
Prior to the super league sponsorship, 361° (China) Co Ltd has been active in supporting various sports events. It is the prestige partner of the 2010 Guangzhou Asian Games and global sponsor of the Olympic Council of Asia. It has also sponsored marathons, diving, basketball and badminton in China.
"It's our commitment to the society to use our strength to aid the local community," said Ding, adding that, besides sports sponsorship, 361° (China) Co Ltd has been devoted to charity work on education, poverty alleviation and disaster relief.
He said similar contributions, in terms of both sports sponsorship and social philanthropy, would be continued along with development of the sportswear enterprise.
Set up in 2005, 361° (China) Co Ltd has been listed as one of the "100 Most Powerful Companies in China" by the Chinese version of Forbes and was honored as one of the "Top 500 Most Valued Brands in China" by the State Administration for Industry and Commerce.
(China Daily 05/25/2009 page10)