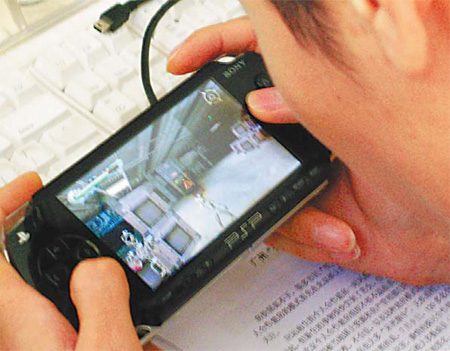 Video game consoles remain a strong rival to online games in China. Michal Lee
China's online gaming industry is undoubtedly one of the fastest growing Internet businesses in the country, but it still has a couple of years and a gap of billions of yuan before it ousts its traditional rival - video game consoles - from its position of leadership.
This despite the fact that with the exception of the Nintendo DS, the sale of video game consoles in China has been banned since 2000. Most video game consoles in the Chinese market are in fact the real thing, but they are mostly imported illegally or supplied by console makers who buy proprietary chips used in the actual systems.
Last year the Chinese gaming industry reaped $8 billion in revenues, according to a report by China Software Industry Association (CSIA), with online gaming notching more than $2.5 billion. However, the larger share - more than half - of that revenue pie came from traditional video game consoles.
Despite intense competition from online gaming websites in recent years, video game consoles have managed to maintain steady revenue growth. Video console games accounted for $3.2 billion in 2007 and jumped to $4.7 billion last year, according to Liu Jinhua, general secretary of the Game Software Department of CSIA.
There has been talk of lifting the ban, but nothing has come of it. Companies like a Sony or a Nintendo do not make much money on just the sale of the video game consoles themselves. Their main revenues come from customers returning to buy more games and peripherals.
"In China, people may buy the video game console, but they may not buy the games or peripherals due to piracy or cheap local knockoffs. So, if Sony or MS launches a console here, even if it is legal, they will probably bleed money until their online game distribution and purchase has been fully enabled," said game developer and expert, Frank Yu.
According to Yu, Nintendo DS Gameboy, sold in China because of a joint venture with China's iQue Ltd. is the top selling and only legal video game console sold in the country. They also have a 15-year history as the top video game console in the world.
Among other consoles sold in the black market, Yu hedges his bets on Sony's Playstation series. "If I were to pick the most popular non-handheld console, I would guess it's the Sony PS2, which already has a large library of pirated games in China," Yu said. "Also, the Sony PSP - although illegal - is quite popular as a PS1 proxy console and a movie viewing device."
The popularity that video game consoles command can be witnessed at any retail store and in electronics markets across major cities.
"Our business of selling video game consoles has not seen a dip in demand. It is as brisk as in previous years," said Liu Zhen, an IT-Mart salesman in an electronics mall in Beijing's Haidan district. "It helps that most of our customers are college students, who often return to buy new games," Liu said.
IT-Mart's fastest selling item is the Playstation Portable (PSP). Liu sells about 4 to5 units of PS2 a month, as opposed to 40 to 50 units of PSP.
Another store, Qian Feng at the Zhongguancun Dinghao Electronic Mall, has seen an increase in its video game console sales. Fang Xiaobing, owner of the store, said that despite the economic downturn his business has improved this year. "My sales have gotten better since last year, when we sold about 70 to 80 units of PSP each month. Now we hit at least 100. Even the sales of the Nintendo Wii and Nintendo DS have increased from 50 each month to 60 units per month," he said.
Fang credits this robust and sustained demand for video game consoles over online gaming to better graphics, a wider variety of games, the actual feel of physical participation and more challenging game strategies.
These are exactly the reasons Dan Yuan, a civil servant and avid gamer, prefers video game consoles to online gaming. "Consoles provide a more complete gaming experience," he said.
"Online games tend to feel like they are never ending and are a waste of time. They also require me to spend more money."
Many online websites have begun charging members for the time they spend on each game and for every new game they play.
Twenty-six-year-old Zhao Jun, a computer engineer, is another gamer deterred by the frequency of the need to spend money on online games, as compared to a one time purchase of video console games. "Consoles require less time and money, while online games exhaust time and money," he said. Zhao, like many of his friends, is an enthusiastic gamer and plays both online and video game consoles. But like him, his friends also prefer the latter, he said. "After all, we started playing video game consoles before online games came into the picture," he added.
When asked about the future of electronic gaming platforms, Yuan and Zhao have differing views.
Yuan says online games may just have an edge over video game consoles in the future because "online games can reach out to many more people through the Internet, while console games can be played only by those who buy them."
But to Zhao, even though "online games offer more opportunities for team play and can reach out to many more people, the online mode is more isolated."
"As part of the real society, with work stressing us, we need to relax not just by playing games online. We need human interaction and if we must play, it should be in the presence of and with a real person, as opposed to a virtual stranger," he said.
(China Daily 05/25/2009 page6)