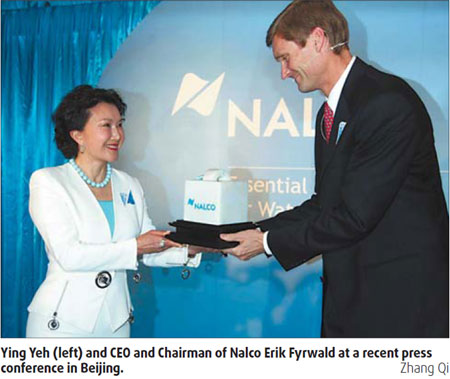 Being in the limelight is nothing new for Ying Yeh. As the first Chinese woman appointed the global vice president of a Fortune 500 company and the minister-counselor for Commercial Affairs in the US, Ying Yeh has received plenty of accolades.
But what surprised many was her recent decision to leave behind her successful 12-year career at Eastman Kodak and join Nalco, a virtually unknown US company.
"As long as I am still alive, I will definitely choose what I love to do, but that love must vary with times," said Yeh, when quizzed on her decision.
Yeh, who started her career as a journalist in Taiwan in 1970s, says that her passion is to explore how best to keep the economy growing along with a sustainable environment.
"The national economy is confronted with the need to achieve a new transition and a leap. This is the primary motivation behind my desire to be part of this undertaking," she said.
Yeh, however, adds that another reason to leave Kodak and associate herself with a green business is linked to her father's death. Yeh lost her mother when she was two months old and was subsequently brought up by her father.
"It is a pity that I had no mother's love but my father more than made up for the missing love and care," she said. When her father died in September last year, Yeh started to think about doing something that contributes to society.
"I am favored by fate to choose something that protects the environment and saves on resources so that our next generation will be able to make a better future," she said. "Nalco is a company that strives to help achieve sustainable development."
Nalco Holding Co, which makes chemicals for water treatment, appointed Ying Yeh as its group vice president and chairman for Nalco China on May 4.
The Chicago-based company, which was the only firm added to billionaire investor Warren Buffett's stock portfolio in the fourth quarter last year, aims to double its China sales within five years or less, its Chairman and CEO Erik Fyrwald said.
"Currently China accounts for 4 percent of our global market share. But we expect China to become our second-largest market within five years and eventually the biggest market," Fyrwald said.
Yeh's government experience and networking skills are expected to come in handy for Nalco when it seeks support from the government.
During her Kodak stint, Yeh was instrumental in setting up joint ventures with six of the seven major local companies. The Chinese government, on its part, did not allow any other foreign investor to enter the imaging sector for three years. The move helped Kodak grab the lion's share of the Chinese film market.
However, critics argue that Yeh left Kodak because the company lost its leadership during the switchover to digital cameras. Earlier this year, Kodak said it would lay off 3,500 to 4,000 people worldwide this year, accounting for 14 to 18 percent of its total staff.
Nalco, established in 1928, has so far kept a low profile in China and is the largest maker of chemicals used for water treatment and industrial processes. It provides integrated water treatment and process improvement services, chemicals and equipment programs to a wide range of customers in the petroleum, steel, paper as well as food and beverage industries.
Yeh said she would help Nalco to expand aggressively in China and also help China become greener.
Growing strength
Nalco achieved its largest sales growth in a decade last year, expanding 7.8 percent to $4.21 billion. Its Chinese sales were about $150 million.
The company is also planning to recruit 50-80 new employees this year in China and double the current 500 staff.
Nalco moved its Asia Pacific headquarters to Shanghai from Singapore last year, and set up an R&D center in Suzhou National New & Hi-Tech Industrial Development Zone.
Currently, Nalco has three subsidiary companies and 12 representative offices in China.
(China Daily 05/18/2009 page6)