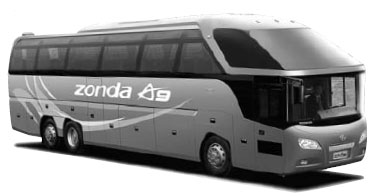 Soon after the global financial crisis led to a hard winter in the vehicle industry, a recent legal battle has made domestic bus makers plunge into even gloomier hardship.
Jiangsu-based Zhongwei Bus & Coach Group lost the first round of a patent infringement lawsuit filed by German bus maker Neoplan Bus GmbH. Zhongwei is accused of copying the entire design of Neoplan's Starliner bus.
Zhongwei Bus, together with its subsidiary Zonda Industrial Group and its sales agent Beijing Zhongtong Xinhua Vehicle Sales Co, were required to pay 20 million yuan in compensation to Neoplan Bus and 1.16 million yuan in legal costs.
In addition, the Chinese company was ordered to stop manufacturing and selling its A9 buses in the future.
Neoplan took the first action against Zhongwei in 2006. More than two years later, the Beijing No 1 Intermediate People's Court ruled that Zhongwei's A9 bus had too much body design works in common with Neoplan's Starliner.
According to a statement from Neoplan, the company obtained the design patent of Starliner in China in September 2004. And after finding the copies of its Starliners made by Zhongwei Bus Group in the spring of 2006, Neoplan soon asked Zhongwei to stop producing and selling the A9 bus.
In response, Zhongwei Bus Group provided some details of body design work to prove its A9 bus was made with its own innovation, such as the different headlights of the two buses. Moreover, Ji Lijun, a spokesman from Zonda, said the A9 bus had gotten a design patent in the country in August 2005.
"Our product was approved by the National Development and Reform Commission for sale in 2005," Ji added.
This is not the first violation lawsuit of intellectual property rights involving vehicle body design since 2001, when China joined the World Trade Organization. But Neoplan's victory was a rare and remarkable one in the recent numerous battles between domestic and foreign vehicle makers.
Last summer, BMW filed a complaint in a Frankfurt court against Chinese auto manufacturer Shuanghuan for allegedly pirating its design patent.
Also last year, China's Great Wall Motor Co was involved in a body design patent piracy lawsuit against Fiat's Panda product.
"Actually, the patent infringement on a vehicle's body design is usually hard to testify," an expert told Legal Daily recently, adding that sometimes, the result of the legal battle can not clearly be proved.
However, there was no dispute that business competition was the main reason for the battles between global vehicle makers.
In the past three years, competition between Neoplan and Zhongwei has expanded quickly. Neoplan's Starliner has not yet been introduced into China's market but Zhongwei's A9 model competed against the Starliner in overseas markets.
In addition, the dispute between the two bus makers may involve the lower price of Zhongwei's A9 bus, only a third of the Starliner's price. In the past three years, A9 has been increasingly exported to Southeast Asian countries and Eastern Europe due to its low price.
"Chinese companies should pay great attention to such issues, as the legal battle will be a good method for foreign companies bearing down on the strong Chinese competitors," an unnamed expert was quoted by Legal Daily as saying.
"But fortunately, the failed lawsuit may attract domestic bus makers to enhance the awareness of intellectual property rights and alarm domestic officials into establishing better legal organizations for coping with similar affairs," he added.
Thanks to increasing efforts on IPR issues, in 2007 domestic vehicle makers obtained over 268,000 patents on vehicle's body design work, an increase of 33 percent over the previous number.
Chinese vehicle makers should put their IPR-related affairs in order and make full use of their rights, the expert said.
(China Daily 03/09/2009 page11)