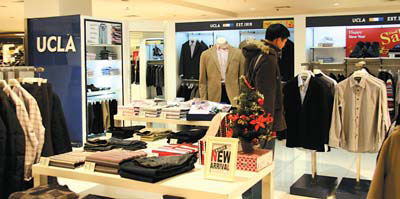 Many American universities' endowments are shrinking as the financial crisis bites donors' pockets, but the University of California, Los Angeles, better known as UCLA, has other means to get through the tough times.
The school is marketing itself in China as a clothing brand, targeting what its booklets in Beijing shopping malls describe as "urban elites." The clothing line is fast becoming a lucrative source of income for the university.
UCLA clothes in China are "smart casual"; polo shirts, leather casual shoes and blazer jackets, in marked contrast to the T-shirts, hoodies and sportswear UCLA sells in the US.
A typical collared shirt in the UCLA store in Beijing costs 400 to 500 yuan and a pair of men's leather casual shoes goes for about 900 yuan.
"Our target customers are white-collar office workers", said Ban Miaomiao, a sales clerk at the UCLA outlet in Beijing's Sogo department store. "Most of them have heard about the school. Some even graduated from it."
Despite a 30-year presence in the Asian clothing market the first UCLA retail store in Beijing only opened in 2004 and was not an immediate success.
Its clothing line in China started with a sporty theme, but Nike and Adidas already dominated China's athletic wear market and UCLA couldn't get a foothold.
Gradually the brand evolved into a style combining the academic image of the school and the Southern California lifestyle, which caught on in a big way.
Ban said her store pulls in an average of 2,000 to 3,000 yuan a day and that sales could grow to about 10,000 yuan a day.
There are now about 100 locations selling UCLA products in major Chinese cities such as Beijing, Shanghai, Guangzhou and Shenzhen. The stores' revenue is about $4 million a year, reported the school's newspaper, the Daily Bruin.
U's Industrial Development owns and operates the brand's business in China and UCLA receives a 7 percent royalty rate on the wholesale price.
The school reaped $151,000 from the Chinese retail clothing market in 2007. UCLA's total royalty income from international licensing that year was $543,000 and more than half came from Asian markets, according to Cynthia Holmes, director of trademarks and licensing for Associated Students UCLA.
Interasia Associates is the licensing agent that solicits business for UCLA in Asia. Interasia monitors use of the brand, copyright and logo and ensures there are no negative implications for the school.
UCLA has aggressively expanded overseas recently and its products sell in Europe, Australia, Mexico, Japan, the Republic of Korea and China. There are currently about 300 companies in the US and abroad licensing the UCLA logo.
UCLA is currently expanding in international markets such as China by adding new stores and products, ultimately hoping its brand as a clothing line becomes as strong as its brand as an educational institute.
(China Daily 01/05/2009 page6)