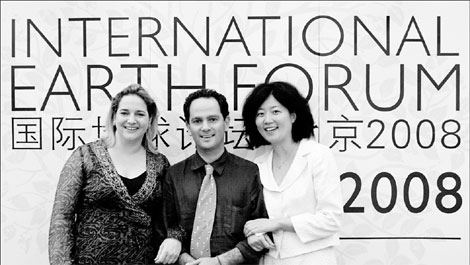 Sophia A. Trapp, Richard Marks and Su Jing at the International Earth Forum held in Beijing last month.
Editor's Note: The world's younger generation has inherited an earth largely spoiled by their elders, many of whom have been busy quarreling over global environmental concerns. The earlier the younger generation starts fresh dialogues, the more environment-friendly the world might be. Inspired by their agenda, China Business Weekly reporter Fu Jing had a discussion with the organizers of the International Earth Forum (IEF) held July 5-6 in Beijing, about youth environmental leadership. IEF is organized by London-based Productions 1000 Ltd. Its co-directors are Richard Marks and Sophia A. Trapp. Marks is an environmental and renewable energy communications strategist and filmmaker. Trapp is an environmental business development advisor. And 26-year old Su Jing, the China Program Associate for the Washington DC-based American Council on Renewable Energy (ACORE) also shed light on the green leadership among the youth. Following are excerpts of the discussion.
Trapp: The qualities most needed by leaders are: courage, commitment, capability, charter (mission and vision), communication (engagement and awareness), and conflict management skills.
In my opinion, youth leadership generally lacks recognition both socially and academically. Adult leadership often just gives a passing nod toward youth leaders, with the intention of waiting to take them seriously only once they have gained some experience. Not only is this inefficient but I don't know what everyone is waiting for.
There is a real opportunity missed when "elders" feel there is nothing to be learned from those who inherit the future. It is right to say that youth lack experience, but that also means that they are not burdened by experience as well. With guidance or people truly listening the "flights of fancy" of many a young leader could be successfully grounded and applied.
Promotion of leadership is not the issue; it is the communication of what already exists. First it's about finding the 'other' leaders and combining them with the known leaders. Then it's about communication between those in the room and creating a space that those leaders can feel comfortable in speaking with one another, and importantly asking the right questions. Then it is essential to communicate the results with those outside the room so that those leadership dialogues can be shared.
I am 36 years old. I chose a green career because I felt a deep need to get involved with the critical global problem right now. But it is more than that. Climate instability is linked with poverty, security and increasing homelessness. They are all interconnected, but the environment is perhaps the facet that is the most easily accessible for most people, otherwise the problems can seem too daunting and paralyzing. When we decide to save the environment we are actually really deciding to save ourselves.
My future plan is to continue to do what I can to unite people and communicate their messages truthfully. My partner, Richard Marks, and I would very much like to host the IEF in Beijing again. We wish to enable those in China whom we have met to meet their global counterparts. China is an essential part of the dialogue and we want to be here when it happens.
Su: For my understanding, leaders are those who are true agents of principled social changes, and those who can empower their followers to achieve human harmony and happiness. Take climate change as an example: We need strong leadership from Al Gore to set up future agenda; we also need grass roots leadership to promote community based climate change solutions.
Nowadays, humanity is facing unprecedented challenges and opportunities in terms of ecosystem degradation, desertification, climate change, water pollution, and energy crisis. The whole world is shifting from the "industrialization age" to "post-carbon age," meaning the more breakthrough innovations are desperately needed. Young leaders from both South and North have to find solutions in a fresh framework in order to engage and usher more people into a better world.
I've been involving and observing the emergency of youth leadership in the environmental field. Some Chinese students both at home and abroad have been doing decent jobs to promote the ideas to live green, design green, and invest green. Globally, however, I think the youth leadership still lacks. From Ridgefield, a small town in Connecticut, USA to Beijing, I keep meeting the young and smart kids who are obsessed with high-end brands and dominated by the mainstream culture-materialism. I think the youth leadership is critical to show the next generation the alternatives to differentiate themselves from others, to make environmentalism more fashionable and attractive and to knit the green lifestyle into the mainstream culture.
I am 26 years old. I just completed my Masters at the Yale School of Forestry and Environmental Studies, where I focused on energy and climate change policy. I am currently working as China program associate at the American Council on Renewable Energy (ACORE) based in Washington DC. I will focus on promoting all forms of renewable energy options by convening industrial leadership, publishing collaborative research and by facilitating communication among stakeholders and media.
By working, living and gaining expertise in both the United States and China, I've learned first-hand to think and communicate between cultures, which equally involves translating analytical concepts to the real-world conditions under serious debate globally.
Marks: Leadership is about integration of common goals at any age, is about taking action at any stage of life, and showing up - as many did at the International Earth Forum.
I think what is lacking is adequate education - it is inadequate now - and the language of sustainability is yet to be defined. How can young people learn new concepts about green business in a business and energy climate that is polluting the planet to death?
Chinese youth leaders were asked if is pollution a bigger fear in the minds of the Chinese people than climate change? The answer came down to jobs. Youth leaders responded that the economic pressure on the average person is very big ... "that you can only react to ecological issues if you're wealthy". This assumption that only the wealthy can do something was fiercely challenged. Everybody can do something given the opportunity for education. New industries have unlimited potential for create massive new value in areas like renewable energy and better design. Once humanity comes to an understanding of real ecosystem functions, it will lead to new technologies. Until then - and right now - renewable energy and better design are increasingly offering massive new value in new industries. And that means jobs.
Youth leadership is conducting a conversation of its own on YouTube, the Internet and via texting. But getting citizen engagement and doing something is only possible where there are options to make a living and to do business. What alternatives are available? Once humanity comes to an understanding of real ecosystem functions, it will lead to new technologies. Renewable energy and better design are increasingly offering massive new value in new industries.
This makes it real.