China's domestic DVD formats are in a legal dispute after an industry organization representing EVD (Enhanced after Versatile Disc), a domestic high-definition DVD standard, recently accused another home-grown standard, CBHD, of patent violations.
Zhang Baoquan, general secretary of the EVD Industry Alliance, a group promoting the format, announced on July 23 that the alliance will launch a lawsuit against CBHD (China Blue High-definition Disc), known as the Chinese version of the HD DVD format.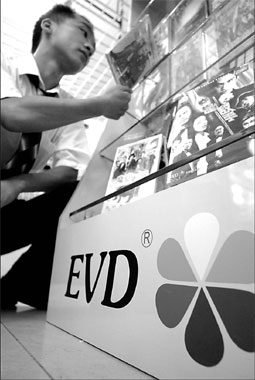 "We have found solid evidence that some top official from Beijing E-world Technology has sold the EVD technology to CBHD supporters, who used the technology in the CBHD disc players," says Zhang, who is also the president of Antaeus Group, a Chinese real estate developer that owns a majority stake in a joint venture with Beijing E-world Technology, the developer of EVD.
"If the CBHD does not stop violating our patent, we will take legal action to protect our interests."
Pan Longfa, deputy director of Optical Memory National Engineering Research Center (OMNERC) under Tsinghua University, the major advocate of China High-definition DVD Industry Association (CHDA) that promotes the CBHD format, says Zhang's accusation has no merit.
"It is groundless to say we have violated their patents," he says. "I think it is not the right time for two Chinese standards to fight against each other."
In the global standard battle for next generation DVD, Sony's Blu-ray DVD and Toshiba's HD DVD are the major players.
On January 4, 2008, citing consumer confusion and indifference as a reason for lackluster high-definition software sales, Warner Bros, one of the major supporters of HD DVD, announced it would stop supporting the standard by June 2008 and the company would release HD titles only on Blu-ray Disc.
Such a shift has put an end to a long-term standards battle between Sony and Toshiba, which announced in February it would give up HD DVD.
In China, the battle has long been between domestic standards and foreign formats. As the world's largest producer of DVD players and discs, China has been struggling due to the royalty fees charged by foreign companies, who own most of the patents in DVD technology and often charge half of the selling price of DVD players made by Chinese manufacturers as patent fees.
China started development on EVD in 1999 as a means for playing HDTV content using existing optical media. It was first released in 2003, but an effort to promote it was dropped in 2004 after the players failed to catch on with consumers and producers squabbled over licensing fees.
In 2006, Antaeus Group, together with 20 leading Chinese manufacturers, including Shinco, Amoi, Hisense and TCL, announced they will stop making DVD players from 2008 and replaced them all with EVD. Gome, China's largest consumer electronics retailer, also backed the move and announced it would open 150 special areas in its shops around the country to sell EVD players.
However, Antaeus's efforts to replace DVD with EVD failed last year because it did not win enough support from content makers, including film publishers in Hollywood. The disparity was reportedly in proper copyright-protection system and data capacity that EVD lacks because it is based on Red-ray technology. (Both Blu-ray DVD and HD DVD are based on more advanced Blue-ray technology that offers a larger data capacity and better copyright protection).
As an alternative domestic standard based on blue-ray technology, CBHD emerged in September 2007. Although there are some similarities between it and Toshiba's HD DVD format, the video compression and copy protection are different.
CHDA announced earlier July that it has gained support from the whole industry chain. It said the first EBHD player will be available in October with average price of no more than 3,000 yuan, lower than Sony's Blu-ray disc player, which was launched in China in January and priced at 4,990 yuan.
The first production line for CBHD disc will start volume production in the fourth quarter of 2008 for the China market initially.
Although both CBHD and EVD are striving to get support, experts say the battle will become more intense as Blu-ray DVD, which has support from most of the world's top film makers, started to make inroad into the Chinese market with lower priced players and discs.
"We are still talking with Hollywood film publishers," says Zhang from Antaeus Group to Chinese media in February. "But if we can't make any deals with them by November, it will become meaningless to continue promoting EVD."
(China Daily 08/04/2008 page9)