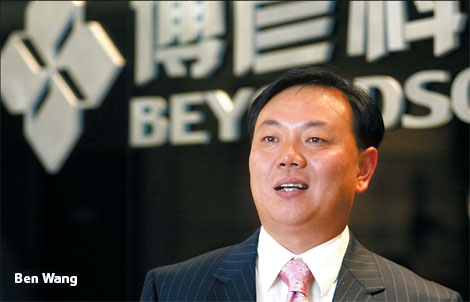 Beyondsoft, a Beijing-based software outsourcing service provider, used to share some substantial similarities with China's countless machinery part exporters: they all received orders with detailed specs from overseas clients, survived mainly on cost advantage and had a few happy years.
Now, rising labor costs and the appreciating yuan are eating into the profit margins of the machinery exporters, putting some on the verge of bankruptcy.
But Ben Wang, founder and CEO of Beyondsoft, says his company is right on the track to become a software giant, despite the same cost issues.
Over the years, Beyondsoft has managed to build up its own development capacity to provide complete software solutions for its clients. By doing so, they have expanded their client base into companies beyond the IT second sector, which often offers more lucrative contracts.
"Instead of making just a bolt or a bearing, now we are creating instruments tailor-made for our clients, and with our own design," says Wang.
The value chain
After receiving his bachelor's degree in Computer Science from Beijing University of Aeronautics and Astronautic, Wang spent three years as a college teacher. In 1995, along with three classmates, he set up Beyondsoft with just 60,000 yuan.
Wang's four-people shop made its first fortune by localizing Microsoft's Windows 95 for the Chinese market. Their performance in the 100,000 yuan deal persuaded the US tech giant to place a slew of orders to Wang's team in the following years.
Beyondsoft has grown into an operation of more than 3,000 employees in 17 cities across China, the United States, Japan, India and Singapore. More importantly, it earned itself a reputation as a leading outsourcing provider in China and most of its clients are leading tech giants such as HP, Google and IBM.
Working with world-class hi-tech gaints allowed Beyondsoft to learn the best practices in the industry, which is important for the fledgling Chinese company. But most of the tasks contracted out by the tech giants are not high value-added tasks such as software testing and coding, which pose few barriers for newcomers.
As more players swarmed into the sector, competition got serious and cost started to escalate, as well as in many other industries in China. Declining profit margins and fiercer competition meant Wang had to find a way out of the crowded battleground.
"We realized the problem in 2006 and have been searching for a way out since then," says Wang.
The growing presence of multinationals in China seems to offer an answer. China is slowly going beyond a mere manufacturing base for many overseas companies and an increasing number of overseas companies are choosing to outsource more sophisticated functions to the nation, such as marketing, R&D and financial back offices.
Unlike the technology giants, the companies in non-IT sectors often require its outsourcing vendors to offer a total solution for their IT demands, which means service providers should be able to identify the needs of their clients, design the best solution from scratches and implement the system with its massive army of engineers.
Such projects, with a high requirement for industry knowledge and overall capacity, often offers high profit margins for the service providers.
"This could be a new promised land for us," says Wang.
Wang's belief is happening in Beyondsoft. Presently, the Beijing-based company is bidding for a services contract from the China arm of a leading global auto company. The automaker used to rely on a software company from its homeland for software outsourcing services. With the automaker as its only client in China, the service provider could only maintain a 10-person team in the nation and had to send fly-in engineers when necessary.
But as China is becoming one of the largest auto markets in the world, the automaker has to adopt more sophisticated IT system to streamline its operation in the nation. Such a project is daunting for a 10-person team, while sending fly-in engineers frequently is just too costly. So Beyondsoft, the leading outsourcing service provider in China, has become a candidate to benefit from the situation.
Buying spree
Despite the rosy prospects, China's homegrown outsourcing service providers, including Beyondsoft, still find it isn't easy to tap into this market segment because their experience in high-end business is scarce and knowledge is often limited.
Trying to make up for this shortage, Wang launched a series of acquisitions of companies with domain expertise.
"It will take a long time to develop the knowledge of an industry all by ourselves," says Wang. "Without a teacher, sometimes it's just impossible."
In 2007, Beyondsoft acquired Chongqing Xunmei Electronics, a provider of integrated security management solutions for banks. The deal later helped Beyondsoft expand into the banking sector.
In January, Beyondsoft acquired Beijing-based Unis Biz Consulting, a leading IT consultancy in China's enterprise resource planning (ERP) software market.
Yet, Wang's most satisfying deal so far is the company's acquisition of Eastern Software Systems (ESS), an India-based software company last year. Founded in 1990, the company is also one of the largest ERP software providers in India and has more than 550 clients in 25 countries. More importantly, ESS' expertise in serving customers in industries such pharmaceuticals, auto parts and engineering would prove to be the key for Beyondsoft to get into the game.
Shortly after the acquisition, the most experienced experts from the India operation were brought to Beijing to train Beyondsoft's employees and offer advice for its improvement. Meanwhile, ESS' knowledge of the pharmaceutical industry also helped Beyondsoft win a deal from GlaxoSmithKline, the world's second-largest pharmaceutical company.
Just a few years before, whenever Wang approached a client, he frequently had to explain why China should be their potential choice rather than India. But now as more companies realize the nation's ability in the software service sector, Wang has a new agenda for his company.
"In a decade or so, we are going to be a global leader in our domain, just like our clients now."

(China Daily 07/21/2008 page12)