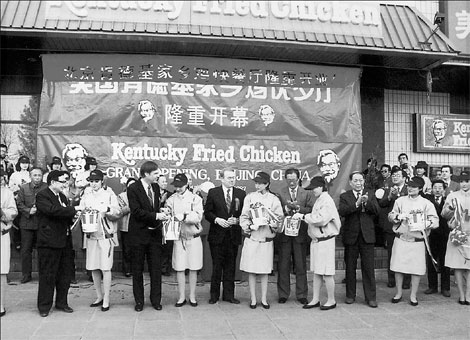 Opening ceremony of KFC's first store on the Chinese mainland on November 12, 1987.
In a nation that has taken pride in the delicacy and diversity of a cuisine which dates back thousands of years, it is astonishing that foreign fast food chains like Kentucky Fried Chicken (KFC) and McDonald's have dominated the fast food industry in China. Over the past two decades, domestic competitors have come and gone, but now a new round of competition is gearing up in China's fast food industry.
November 12, 1987 was a milestone in the fast food industry in China. That was the day KFC, the world's leading fast food chain, having failed in Hong Kong in 1975, made its first foray into the Chinese mainland. It was three years before the global behemoth McDonald's came to China and built its first outlet in Shenzhen.
KFC's entry marked the beginning of the fast food industry in China. Many Beijingers still recall the opening day of the first KFC store. It was in a three-story building of 1,100 square meters in Qianmen, about a five-minute walk from Tian'anmen Square. It is still the largest KFC store worldwide, by floor space.
The line of consumers wanting to purchase the 12-yuan KFC hamburger or 8-yuan fried chicken, or those just wanting a glimpse of the store, extended 50 meters down the road to Tian'anmen Square. On that day, the Qianmen store sold out its 2,200 buckets of fried chicken and made 83,000 yuan.
Such avid consumer enthusiasm may have been beyond the fast food giant's expectations, but it was not implausible. KFC brought the idea of "fast food" to China nine years after China embraced the opening-up and reform policy in 1978, when Chinese curiosity about the West was at a peak.
Given the 120 to 130 yuan monthly salary of Beijing urban residents at that time, KFC prices were not affordable to most, but many still flocked to the store. The KFC store had many attractions. Besides the delicious and crispy fried chicken, there was the image of an affable Colonel Sanders, the striking red, white and blue decor, the smiling attendants and the quick service.
The success of the Beijing KFC prompted the chain to open more stores in China's major cities. By the end of 1992, there were nine KFCs on the mainland.
KFC's booming sales also provided a big incentive to McDonald's to enter the Chinese market in October 1990. The leading global fast food chain chose Shenzhen, a major southern city where there was no KFC at the time, to open its first 500-seat store on Jiefang Road, in the city's busiest area. Its Ronald McDonald clown, yellow M logo and Big Mac helped McDonald's quickly won over local consumers. A plaque on the store's wall testifies to its historic significance in Chinese culinary cultural history.
That same year, Pizza Hut opened its first restaurant at Dongzhimen in Beijing. Pizza Hut brought in another new fast food concept, that of "casual dining". Customers were greeted warmly at the door, escorted to their tables and dined in a relaxed atmosphere with music playing in the background. It was in sharp contrast to poor service consumers had long encountered at local restaurants.
Despite the attractiveness of these fast food chains, local consumers in those early days could seldom afford to eat at KFC, McDonald's or Pizza Hut. The most frequent customers were foreigners living in China. Dining at these establishments was considered such a luxury that some couples chose to hold their small wedding banquets there.
An emerging industry
With the emergence of a fast food industry in the 1990s, the Chinese government included it in the Eighth Five-Year Plan (1991-1995) in 1994. In 1996, the government issued Fast Food Development Guidelines, defining "fast food" as delicious and nutritious food that could be delivered in a short period of time.
The guidelines set an annual growth rate target of five percent for the national fast food industry during the 1996-2000 period, with expectations that this sector could contribute 25 percent of restaurant industry revenues by the year 2000.
Stimulated by this national policy and a growing market for fast food, homegrown chains began to spring up during this decade. Many set their sights high, trying to compete with the foreign fast food giants, but most ended in failure.
Ronghua Chicken, the first Chinese fast food chain, was one of them. The chain was launched in December 1991 by the Shanghai Xinya (Group) Co Ltd two years after KFC opened its first Shanghai store.
Prior to establishing Ronghua, its president, Jiang Wei, visited a local KFC to take stock of how fried chicken products were made. He then developed the Ronghua Chicken and designed a fast food package of chicken, fried rice, borscht and salted vegetables with green soybeans.
From the beginning, the chain competed with KFC, with the slogan: "Wherever there is KFC, there is Ronghua".
With its slogan, a more Chinese menu and lower price, Ronghua made a big splash. In 1992-1993 Ronghua expanded aggressively nationwide and reportedly had sales of 15 million yuan, with daily revenues as high as 119,000 yuan, surpassing KFC and McDonald's in some regions.
But it was short-lived. Ronghua Chicken expanded into Beijing in 1994 but six years later it was forced to shut down all of its stores in the capital because of poor business.
Jiang attributed the failure of Ronghua to "a lack of the kind of well-developed system that KFC possesses which oversees every detail of the business, from making the product, to service, to site, to staff training and management".
Ronghua was not alone in aiming high. Red Chinese Sorghum Mutton Noodle, which competed directly with McDonald's, is another example. In April 1995, a young Henan native, Qiao Ying, opened the first Red Chinese Sorghum store in the provincial capital of Zhengzhou. The 100 square meter store was fixed up to look exactly like a McDonald's.
Business was fairly brisk, with daily sales reaching 10,000 yuan. Within eight months, seven additional stores were opened in the city. In early 1996, Red Chinese Sorghum expanded to Beijing, locating its first store in the Wangfujing district, opposite the world's largest McDonald's store.
Soon thereafter, Red Chinese Sorghum ran short of money as Qiao had been intent on expanding without improving management of the chain. Then Qiao himself was arrested for illegal fundraising.
Nevertheless, there were also success stories, such as the Changzhou-based Lihua Fast Food which was launched in 1993, followed by Malan Noodles, Yonghe King and Daniang Dumpling.
These chains expanded into China's major cities. Malan Noodles was even ranked as China's third most popular fast food chain in 1999, after KFC and McDonald's.
By 2000, there were 1,400 fast food chains in China with a combined network of 500,000 stores and annual sales of 80 billion yuan.
Chinese fast food chains are still overshadowed by their foreign counterparts, even with lower prices and food tailored to a Chinese palate. KFC and McDonald's continue to occupy the biggest share of the market, with KFC leading the way.
The reason may well be the management system of these global fast food chains. An AC Nielsen survey in 1999 showed that KFC was the most favored international brand in China. Since the very beginning, KFC's focus has been on "building a perfect system which governs every step of the way - from purchasing, to making, to delivering the food - and to the quick service," according to Sam Su, president of Yum! Brands Inc. China Division.
"Once the system is established, it is easy to institute it at each new store," he adds. That is the reason KFC opened only 10 stores in the first five years, and then stepped up the pace to 100 stores by June 1996 and 1,500 by 2005.
The foreign fast food chains also have a strict evaluation system for choosing sites, based on where to locate and how much to invest in a specific region.
There is a training system as well. McDonald's trains its staff at its corporate schools, Hamburger University. One is located in Hong Kong. At KFC, each new employee must go through a 200-hour training program and attend courses at a KFC education development center especially tailored for China.
By comparison, homegrown fast food chains either modeled themselves after their foreign counterparts superficially, or were only interested in expansion.
"Chinese-flavored fast food should have sold better, but they could not live up to market expectations. The quality of the food was not consistently good and consumers had to wait too long before the food arrived," Su says.
New competition
Since 2001, the competition has been heating up again. Chinese fast food chains have been growing and accounted for 80 percent of the restaurant industry in 2007.
Many of the Chinese fast food chains have been updating and standardizing their systems. In September 2005, Lihua Fast Food invested 3 million yuan to establish its own factory in Nanjing, introducing an automatic production line which standardizes the taste of its the cooked rice. The company later built factories in Changzhou and Beijing.
Kungfu Catering, one of the largest Chinese fast food chains which opened its 200th store last year, announced last October it will be standardizing the operation of all its stores with the help of South China University of Technology to ensure that each food order is of the same quality and can be delivered in 80 seconds.
"The Chinese fast food industry is maturing, and standardization is the only way to compete with foreign fast food chains," says Li Yaguang, deputy secretary-general of China Cuisine Association.
It is still not easy to gain an edge as foreign competitors continue to expand aggressively.
KFC has more than 2,000 stores dotted around China's 465 cities, according to Su. It is expanding at the rate of one store a day, reaching further into counties. McDonald's also plans to have 1,000 stores in China by the end of 2008.
Chinese fast food chains are resorting to venture capital and the capital market, as inadequate funds are a big stumbling block.
Last March, for the first time, Ajisen Ramen, a Chinese fast food chain, got listed in Hong Kong. Lihua Fast Food and Daniang Dumpling have set a timetable for their initial public offerings. Lihua Fast Food raised $10 million and Kungfu Catering raised 300 million yuan from venture capital funds last year for expansion.
At the same time, foreign fast food chains are now looking to cater more to the local palate. For example, KFC now sells pumpkin porridge and youtiao (deep-fried dough) for breakfast, and egg soup and Beijing chicken rolls. McDonald's is changing from beef to chicken in its under five-yuan menu.
In 2005 Yum! Brands Inc. China Division launched East Dawning, a Chinese fast food chain serving typical regional food. After three years of "gaining experience" with 13 stores in Shanghai, East Dawning will be expanding nationwide in 2008.
(China Daily 06/30/2008 page2)