Common goals
By YU TIANYU and LI JING (China Daily)
Updated: 2008-06-16 07:10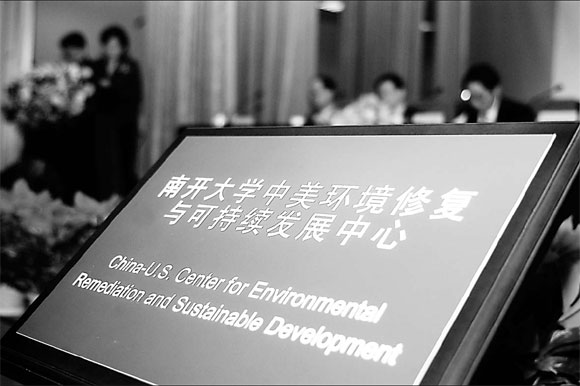 The China-US Center for Environmental Remediation and Sustainable Development was set up in Tianjin Binhai New Area in March.
It's a significant week for environmental and energy cooperation between China and the United States, which are plotting their eco-roadmaps for the next decade.
As the world's major economies and polluters, the two countries have used the Sino-US Strategic Economic Dialogue (SED) as a bridge and platform to realize their joint goals.
The fourth SED will be held on June 17-18 in Annapolis, Maryland, co-chaired by Chinese Vice-Premier Wang Qishan and US Treasury Secretary Henry Paulson. Other senior officials from related departments of the two governments will also attend.
The two countries are expected to sign a landmark pact charting the course of environmental and energy cooperation between two of the world's major economies.
Created by President George W. Bush and President Hu Jintao in 2006, the SED provides a strong foundation to manage the emerging environmental and energy challenges faced by their countries.
"The environment is an issue which both sides are pretty concerned about and politicians and common people from both countries are paying a lot of attention," says Li Xinmin, deputy director of the pollution control department of the Ministry of Environmental Protection. "Also the US and Chinese economies complement each other."
State-of-the-art ideas and technologies for cleaner air and water will also be discussed.
The US has agreed to offer technological solutions and management expertise to improve China's air and water quality over the next decade. China also agreed to expand market-oriented practices, such as emissions trading, in order to curb its water and air pollution.
China will soon establish a national cap-and-trade system for sulfur dioxide (SO2) emissions to deal with pollution from the nation's power industry,
As a major aspect of the clean air cooperation plan, emissions trading practices will be adopted by all of China's power generators, the main source of the country's SO2 emissions.
China will also borrow from US experiences in setting up its own management mechanisms to clean up its major rivers, as well as measures to ensure safe drinking water.
The United States knows well that economic development increases opportunity and prosperity, but also often brings serious environmental harm, says US Treasury Secretary Henry.
America's industrial revolution during the late 19th and early 20th centuries - as well as its love affair with the automobile - eventually led to massive pollution problems, says Paulson.
In one example, Ohio's Cuyahoga River - a major tributary into Lake Erie - was so polluted that in the 1960's the river often literally burst into flames. Pollution was so severe that descriptions from the time declared that the Cuyahoga had "no visible life, not even low forms such as leeches and sludge worms". On June 23, 1969, the Cuyahoga again caught fire, with flames leaping as high as five stories.
China today faces similar and daunting environmental challenges. According to the World Bank, 16 of the world's 20 most polluted cities are in China.
A report recently published by the Ministry of Environmental Protection shows that the quality of more than 23.6 percent of the country's water runoff is worse than Grade V, or unfit for human consumption.
"Common interests and similar situation which both sides are facing have laid a foundation for the cooperation, along with the previous successful examples", Li adds.
Focusing on current problems and developing clean energy is the core of Sino-US cooperation in the environment and energy sectors, says Paulson.
Solutions should center on technologies, policies and various other forms of cooperation, Paulson said in a speech titled "Meeting the Challenges: A Partnership on Energy and the Environment", which he delivered at the Research Center for Eco-Environmental Sciences of the Chinese Academy of Sciences.
The conference will also focus on the safe disposal of toxic wastes, still a major challenge for both sides.
Three regional air quality management seminars have been held in an effort to share mutual experiences, discuss policy-making, as well as innovative environmental technologies.
In China pilot programs for managing regional air quality are taking place in the heavily polluted Beijing/Bohai region, the Yangtze River Delta and the Pearl River Delta.
Since nitrogen oxides will become one of major pollutants in China by 2010, its strategic control and treatment has been designated as the theme of the third seminar.
China's Ministry of Environmental Protection has also started drawing up national emission criteria, asking new fire-powered boilers to adopt combustion technology with low nitrogen outtakes. More than 50 demonstration projects using smoke denitration (removal of oxides from nitrogen) are under construction or completed so far.
Cooperation on water pollution treatment between the two countries has just started and has a promising future as well, says Li.
At the first Sino-US Environmental technology cooperation seminar held in April by China's Ministry of Science and Technology and the US Environmental Protection Agency (EPA), the safe drinking water was a major topic of discussion.
In Tianjin Municipality's Yuqiao Reservoir, China and the US have launched a pilot project to ensure the reservoir's water quality. Officers of the EPA and Tianjin Environmental Protection Bureau are researching the reservoir's pollution sources and trying to design a water treatment plan.
China and the US agreed on a Strategic Cooperation of Dangerous and Solid Wastes strategy in 2006. The US helps China to work out guidelines and incentive mechanisms for recycling wastes, along with pollution emergency reaction plans.
The two sides are striving to create ways of treating and disposing of medical waste, lead-acid batteries, electronic waste, mercury and discarded tires, also working out relevant laws and regulations.
The EPA is drawing up a list of pollutant sources for mercury and new strategies of mercury utilization and reduction of persistent organic pollutants (POPs).
Another important pilot program is focusing on the emission problems of diesel cars in Beijing where the vehicles are a major source of particulate pollution. The capital's Particulate Concentration level currently exceeds the safe standards.
The US Southwest Research Institute has invested $200,000, and provided technologies and facilities to help China deal with the problem.
China and the US are also working on low sulfur vulcanization of petroleum products, control of SO2 emissions and treatment of gasoline-fueled vehicle emissions, Li says.
In addition, the cooperation has been expanded to energy saving architecture and environmental monitoring, Li adds.
The bilateral cooperation includes joint research, seminars, information sharing and pilot projects, Li says.
Due to the lack of financial support from the US side, most of the cooperation is staying at the level of sharing technology, experiences and ideas, says Li.
Because of cultural, political and social differences, there are some barriers, Li admits, but they can be overcome because both sides have goals.
"As long as we insist the principle of seek common ground while reserving differences, it will still bear more fruit," Li adds.
According to Treasury Secretary Paulson, making existing or new technologies affordable is crucial. "It will require reducing market access barriers," he says.
"For instance, I hear from some government officials about the need for US technology to help clear up China's rivers and control pollution from China's smoke stacks, but technology can be expensive, in part due to tariffs and non-tariff barriers," he says.
High priority should also be given to eliminating tariffs or non-tariff barriers on products, goods and services to improve the health and welfare of the Chinese people, he says.
"The cooperation has satisfied both sides so far," Li notes.
The SED has allowed both countries to develop long-term, strategic solutions and to address immediate issues of pressing concern in their economic relationships. Through the SED, they make progress on those long-term issues by defining our strategic objectives and laying a course of concrete actions, says Paulson.
The first US-China Strategic Economic Dialogue (SED) in December 2006 did not touch any substantial cooperation plan in the strategic level, but progress was made during the second round of SED in May 2007. At that time the two countries agreed to provide policy incentives to promote the full commercialization of advanced coal technologies and to advance the commercial use of carbon capture and storage technologies, with an aim to set up 15 large-scale coal mine methane capture projects in China.
In the third round of the SED in December 2007, environmental related issues received unprecedented attention by both sides. Agreements were reached for enhanced joint efforts to combat the illegal logging trade, to promote forest management, as well as a sulfur dioxide emission-trading project in China.
(China Daily 06/16/2008 page5)